Whatcha doin?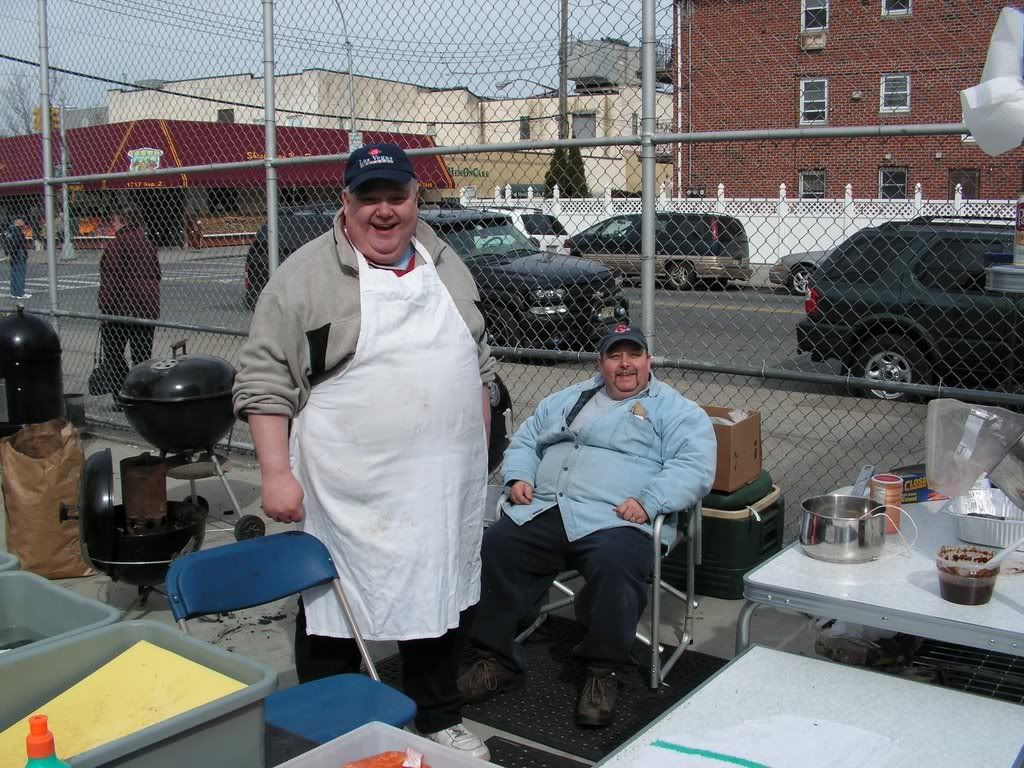 While you're inside in the air conditioning surfing the net and avoiding this heatwave, check out
this story
in the
Albany Times Union
about the Troy Pig Fest and two of the teams competing there;
The Anchormen
(seen on the left, my left not the blog's left, who were the 2007 Grand Champions of
Grillin' On The Bay
) and
Lakeside Smokers
.
But wait, don't go yet, there's lots of stuff coming up here in WhiteTrash BBQ world. I've got a review of the
Brinkmann Smoke n' Grill
, reviews of some new books;
The Shameless Carnivore
and
Meat: A Love Story
, and finally reviews of a couple of NYC BBQ restaurants that I've visited lately.
Coming up there's the great hot dog taste challenge between
Oscar Mayer's premium beef hot dogs
,
BallPark's beef hot dogs
, and our usual house brand
Nathan's
; reviews of
La Cense
's all natural, hormone and antibiotic free grass fed beef and a review of a
turducken
from
The Cajun Grocer
. We're going be eating high on the hog!
Also, I'll be talking a little about the
KCBS
judging process. I'll be up in Vermont next weekend to judge the
Harpoon Brewery New England BBQ Championships
at which the
New England BBQ Society
crowns its team of the year and I like to review my thought process and the rules before I judge any event. I'm really looking forward to this contest. Last year I ate some of the best grilled foods I've ever had and I swear the beer had nothing to do with it!
And finally, at this year's
Hudson Valley Ribfest
, I'll be competing under my own name as WhiteTrash BBQ. I'll be joined by my old friend and pitmaster of Hot Hogs, Pete and the founder of the
NY Barbecue Lover's Meetup Group
, Kevin. Hopefully one of the "Mikes" whom I competed with last year will be available to round out the team. Preparations are under way, but I don't expect to win as I don't compete anywhere near enough, but a fun time is guaranteed for all.
Yup, it's busy in the world of WhiteTrash BBQ!
Labels: barbecue, barbeque, bbq, competition, hudson valley ribfest, review