Scoring Barbecue
About a year ago,
KCBS
instituted a new system in judging. In an effort to get more consistent scores from the judges, they added a word definition to each number score. There are three criteria that meat entries are judged upon -- appearance, taste, tenderness/texture. Scores can range from nine to one:
Nine (excellent)
Eight (very good)
Seven (above average)
Six (average)
Five (below average)
Four (poor)
Three (bad)
Two (inedible)
One (disqualified)
When I was taught to be a judge, I was in the first year of the "new" system. I was taught that judging begins at 6 and to raise or lower the score as the entry warranted. In the old system, the judges began at 9 and worked their way down. Personally, I think the new system makes more sense as not every turn in would be "excellent," most would be "average."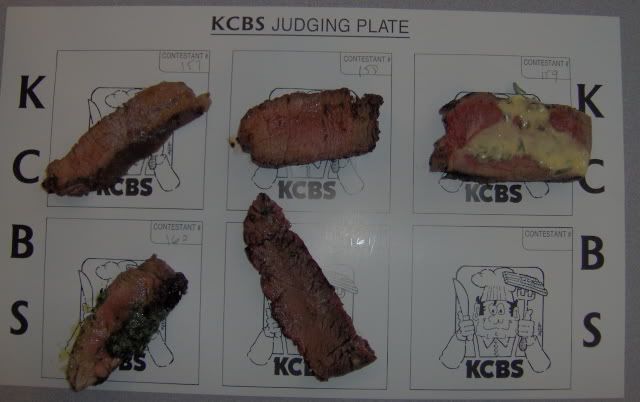 The old system created a lot of perfect scores and the new system changed all of that. But it caused a real riot amongst many of the cooks who were used to seeing scores of 8 & 9 on a regular basis.
I remember talking with one team at an event about their scores. This may have been the first contest for them where the new rules were in place. They had mostly scores of 7 & 8. A couple of entries had scores of 6 and one category had a 5. They hit the roof. "5? A 5 would mean it's inedible." "A 6? We've never gotten scores so low before." "These new judges don't know shit."
Their reaction to the new scoring system took out all the joy for them of a third place finish. The next time I saw them they were again bitching about their scores, but the still were in the top 5 of the event. The rest of the top 10 finishers were teams whom you would expect to be there. The cream still rose to the top.
After every one of these conversations with the teams I reflect on the scores I gave out. I agonize about the 5 I gave one entry or the 4 I gave another. I spend a lot of time going over it in my head before I write it on the judging card and still more in the drive home. I've never come to the conclusion that I gave a wrong score, but I know how they will be perceived. Let's face it, everyone wants a high score, even if their entry doesn't warrant it.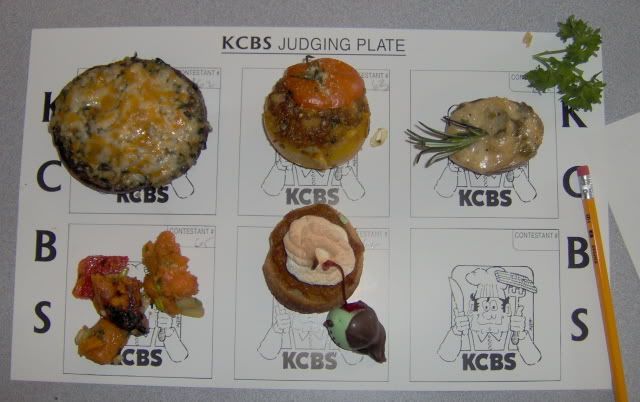 The new worded definitions have made me think a little more about the scores I gave out this year. 4 out of 9 does not sound as bad as "poor." "Poor" is a slap in the face. "Bad" or "inedible" are even worse. A wordless 4 was much easier to assign than to give a "poor" rating. I can't imagine ever giving an "inedible" score.
Talking with the other judges, the word scores have caused many of them to rethink their scoring as well. Some are raising the scores they assign. Others are taking a little longer before giving the score. Some don't give a shit and will continue to judge it on the old "start at 9" system.
It will be interesting to see how this plays out this season. Will the overall scores rise? Will we be seeing more "perfect" scores again? Time will tell, but like I said, the cream still rises to the top.
Labels: barbecue, barbeque, bbq, BBQ judge, competition, kcbs