Tuesday Two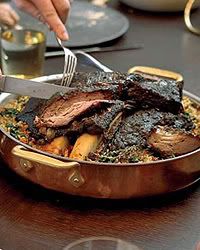 Well, it didn't work. My head says I'm fine, but my body has other ideas.
March Madness continues. Dinner tonight: grilled London broil, corn and pasta for the swimmer.
Be sure to check out this month's Food and Wine magazine. This month features a great
article on Passover dinner
with a modern twist as presented by my buddy
Adam Perry Lang
of Daisy May's Barbecue. The article also drops some great news; Adam's releasing a cookbook called Daisy May's Barbecue. Personally, I can't wait.
Picture of Adam Perry Lang's Short Ribs courtesy of Food and Wine Magazine.
Labels: adam perry lang, barbecue, barbeque, bbq, daisy may's bbq