The Baron is Making News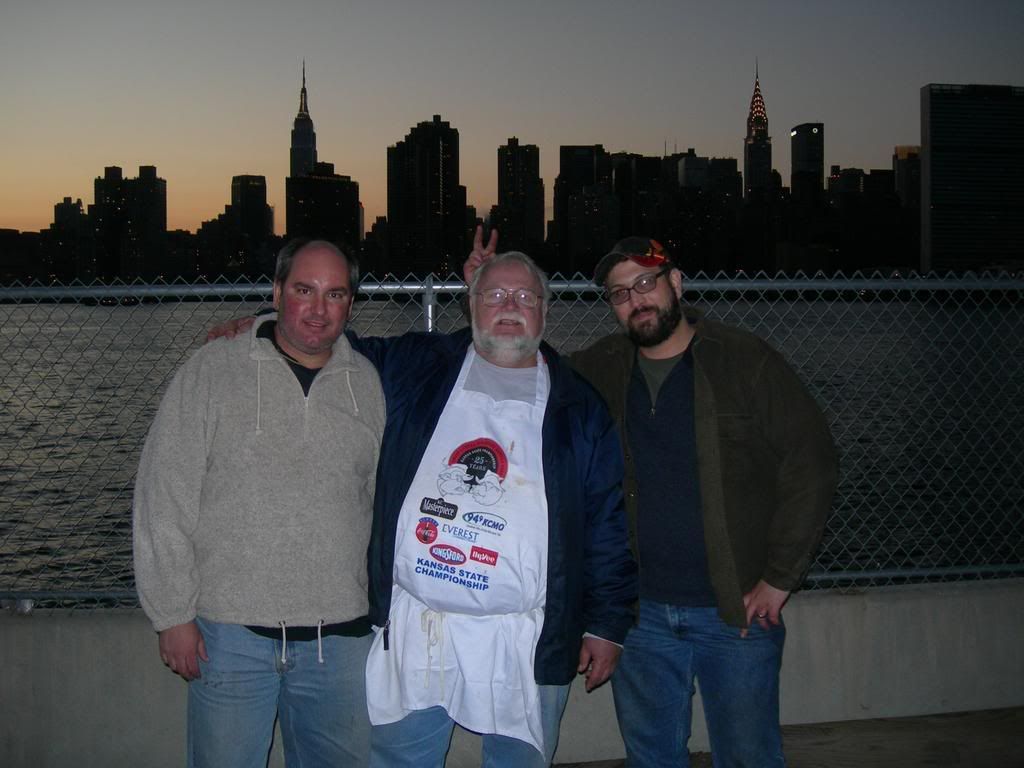 Seems like
Paul Kirk
, aka the Baron of Barbeque is a busy guy. Today in my email I received two messages about Paul's activities. The first is a brief blurb from the
Austin Statesman
mentioning that
Paul is in Austin
for the
National Barbecue Association
's annual convention.
The other, copied below is a review from
Las Vegas City Life
of Paul and Andrew Fischel's new Las Vegas outpost of their
RUB BBQ
restaurant. Enjoy.
Oh, by the way, that's me,
Paul Kirk
and The
Hampton Smoker
in the picture from when we brought Paul and his School of Pitmasters to New York.
We knead meat
Sauce is rendered superfluous thanks to Rub's tasty dry-cooked BBQ
PHOTO BY TODD LUSSIER
Meat. Need we say more?


Advertisement

by AL MANCINI
AS I'VE MENTIONED IN THE PAST,
I didn't grow up on barbecue. For me, the term referred to grilling burgers and hot dogs in the backyard on holidays. It wasn't until my early 30s that I learned to really appreciate meats cooked for countless hours in smokers. And it wasn't until last year that I experienced my first barbecue competition, in Vancouver of all places, where people from around the U.S. and Canada pitted their top-secret recipes against each other. Fortunately for those who are still in the dark when it comes to real barbecue, Rub BBQ recently opened its doors at the Rio.
Rub is brought to us by Paul Kirk, also known as The Kansas City Baron of Barbecue. Kirk is a certified master barbecue judge, a member of the Kansas City Barbecue Society Board of Directors and was inducted into the KCBS Hall of Fame in 1990. In 2005, he brought his barbecue to New York City with the original Rub Barbecue, and the place very quickly became both an overwhelming success and a celebrity hotspot. Given Las Vegas' hunger for restaurants that have been successful in other cities, it was only a matter of time until we got one here.
The local restaurant is a rather unassuming place on the mezzanine level of the Rio. A large glass window on one walls allows you to gaze in on the massive smokers (which honestly aren't terribly interesting), and many of the seats have a view of The Rio's Masquerade Show In The Sky (which is probably extremely cool for tourists, but can be a bit annoying after you've seen those dancing girls chained to their floats a few dozen times). While the service is great, the place has a casual vibe, with waitresses wearing cut-off denim shorts, and food served in cardboard baskets.
All of that is just fine. Barbecue isn't about fancy restaurants. It's all about the meat, and Rubs delivers some of the best I've ever had.
There's a huge variety available here, including pulled pork, smoked ham, pulled chicken, barbecued chicken, smoked turkey, beef brisket, pastrami, three types of sausage, a whole pig butt, the fatty brisket points known as burnt ends, pork spare ribs and baby backs. They're smoked for as long as 18 hours in a blend of hickory, oak and apple smoke. You can order them in a wide variety of platters ($16.75 and up) and sandwiches ($13.75 and up), with ribs available in half or full racks ($16.75-$26.75).
They also offer appetizers like fried dill pickles ($7.25), fried green tomatoes ($8.75), BBQ bacon chunks ($9.75) and BBQ chili ($8.75). If you want a salad, you have four choices ($3.95-$13.75), although two of them are packed with meat. And sides include greens, cornbread and garlic mashed potatoes (all $3.75 for small, $7 for large).
My wife and I were simultaneously disgusted and intrigued by a listing in the appetizer section called BBQ Frito pie ($11.75). So we decided we had to try it. It was a bowl of Fritos topped with chili, cheese, onions and jalapenos. In all honesty, it was a pretty decent take on nachos -- although Doritos might worked better as an alternative corn chip. The best part about the sloppy appetizer was the barbecue chili topping it gave as our first taste of Rub's perfectly smoked meat.
For our dinner, we ordered up a massive sampler platter called The Baron ($49.75). It could easily have fed four people, but its combination of beef, chicken, pork, ham, pastrami, turkey, sausage, ribs and two side dishes gave us our best chance to try as many meats as possible. Since this was true barbecue, they'd all been cooked dry, without sauce. And on meat this flavorful, you certainly don't need it.
We liked every single thing on the plate. In my opinion, the hand-down favorite was the pastrami, which was the leanest and tastiest I've ever had (I can't wait to try it on one of their BBQ Reuben Crusher sandwiches). My wife loved it as well, but liked the brisket even better. Other standouts included the pulled pork and the incredibly moist turkey.
While all of the meats were excellent, the sides were simply average. The macaroni and cheese and cornbread were on par with the stuff you'd get in a grocery story. I also found all three of their barbecue sauces rather bland, but as I said earlier, they were fairly superfluous.
Those are minor complaints, however, with barbecue this good. Whether you're a barbecue neophytes or someone who grew up behind a smoker, you owe yourself a visit to Rub.