Barbecue Sauce By Region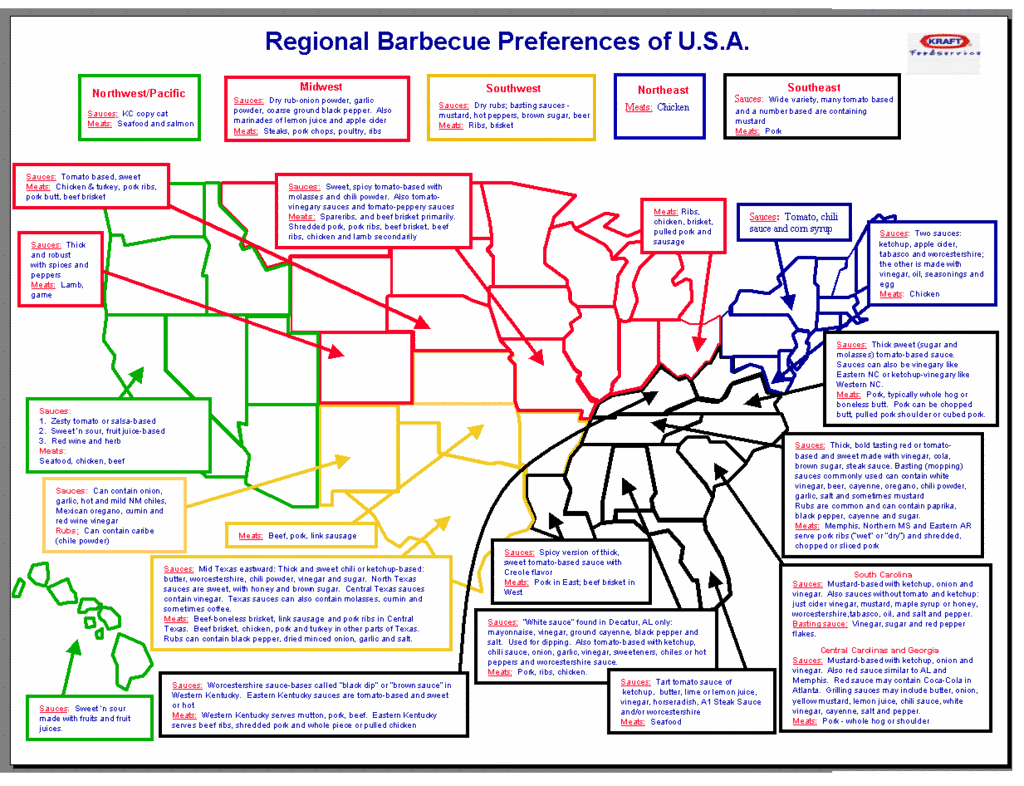 Photo of the various barbeque regions of the United States courtesy of Kraft Food Service.
There's a great book out called
Mastering Barbecue
by Michael H. Stines. In this very informative book he discusses how different parts of the United States have signature sauces. Funny, he ignores the middle Atlantic states, the west coast and New England completely but he does include Florida and Oriental. Very interesting, but here goes:
Alabama: Thin, vinegar-based with sugar, salt, pepper and mayonnaise
Georgia: Thin mustard-based, tomato and vinegar
Kansas City: Thick tomato and sugar base, sweet, smoky and spicy
Kentucky: Black sauce with Worcestershire sauce, molasses and vinegar
Florida: Tomato -based with lemon, lime, vinegar and butter
Hawaiian: Sweet and sour with fruits and fruit juices
Oriental: Soy sauce, peanuts and some heat. (Oriental? Isn't that phrase obsolete now-a-days and considered offensive by many? Also with peanuts I'd peg it more as Thai or Vietnamese rather than Oriental. But hey, I didn't write the book)
North Carolina (Eastern): Thin, vinegar-based with crushed red peppers, salt and pepper
North Carolina (Western): Thin, similar to Eastern North Carolina, but with tomato and sugar added
South Carolina: Thin mustard, vinegar, salt and pepper
Tennessee: Depends on the region. Thin, vinegar-tomato sauce or sweet, somewhat spicy tomato-based with peppers and molasses (Memphis)
Texas: Very thick, tomato-based, spicy with molasses and Worcestershire sauce, also a thing, hot-pepper-based sauce.