Everytime I Think I'm Out
They drag me back in.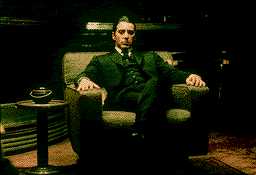 Apologies to Don Corleone, but the older I get the more I understand how he feels.
In June, after 15 years, all of my children have left the grammar school. I remember sitting at my daughters graduation ceremony thinking that I was graduating as well. After 15 years of working on school plays, pumpkin patches, blood drives, card parties, Mother's Day sales, Father Day sales, car washes, haunted houses, movie nights, basketball, parish dances, being Santa and whatever else they could sucker me into, I was free.
Well, it was a short summer. This weekend was the school Halloween dance. Guess who they called to build the haunted house again. Oh, I tried to get out of it, but the PTA president is a good friend and she swore she couldn't find anyone else. So we assembled the old team; Chuck, who's been out of the school four years now; Mike, who's been out of the school a couple of years now; John who's child is still there and me. We built a haunted house. It turned out to be a fun night and it was good working with my friends again.
But this is a blog about barbecue. So let me leave you with a recommendation. I mentioned a couple of weeks ago that Barnes and Noble was putting many of its "summer" books on sale. Now is the time to pick up all those barbeque and grilling cookbooks at discount prices. My latest purchase is the
Williams-Sonoma Complete Grilling Cookbook
. Original price was over $50. I bought it for $12.95. (Jeez, I was feeling like I got a great deal, but looking at
Amazon
, I could have bought it for $6.47. Nice.)