Book Review: Extreme Barbecue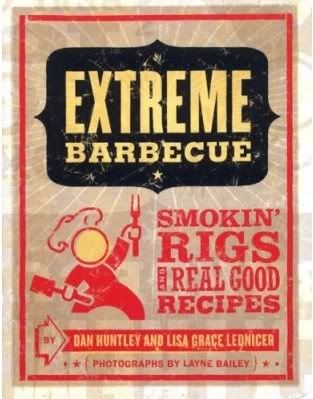 Extreme Barbecue
Smokin' Rigs and Real Good Recipes
by: Dan Huntley and Lisa Grace Lednicer
Published by
Chronicle Books
, 2007
It was time for another trip to my favorite bookstore on the upper west side of Manhattan. It always amazes me that this store is the best source of barbeque books that I've found. I don't think there's a sub culture of smokers with grills on the roof on the upper west side, but the books are selling. If you're one of the the UWS smokers out there, please contact me. Your identity will be safe with me.
So what did I buy this time? Extreme Barbecue. Here's the run down from the Chronicle Books website... "this is Extreme Barbecue, a tribute to the derring-do behind the craziest grilling contraptions in the country. Through in-depth profiles, outrageous photographs, and nearly 100 personal recipes, this unique cookbook exalts in unprecedented cooking techniques and junkyard serendipity."
That sums it up pretty well. This is a great little cookbook that really gets down to the soul of the competitive barbeque cooks. This is what the cooks talk about; their cookers and their food. That alone makes this book worth the investment.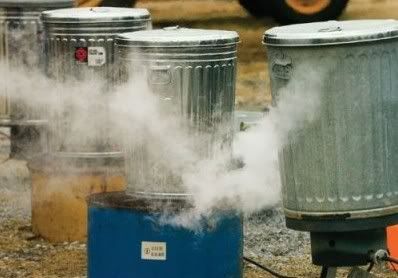 This book details the cooks that build their own cookers because they weren't satisfied with what was on the market or simply because they could and they weren't doing anything with that oil tank or bicycle wheel anyway.
But then the authors take this another step, they add in the cooks who still do it the way grand pappy did. Cooking in holes in the ground, in metal trash cans, on sticks and on rocks. These are the cooks who cook in time honored and in many cases labor intensive traditions.
And finally the authors put the cherry on the cake and add recipes for the foods you find in the competitions; Armadillo Eggs, Burnt Ends, Frogmore Stew, Carolina Snowballs and much more. In another post I'll talk about a technique for cooking brisket that I've never heard about or seen before.
But right now you need to go and buy this book. I highly recommend it.
Pictures courtesy of Amazon; meaning I copied them from their website.