BBQ Equipment: The Big Easy
A couple of weeks ago I attended
Charbroil
's 2008 product roll out at New York City's Bryant Park. This year's event was a little more low key than last, but Charbroil showed some great new gas and charcoal grills. I'll talk about the gas grills in another post, but let it be known that Charbroil has heard from their users and responded accordingly. The new gas grill technology and designs are impressive.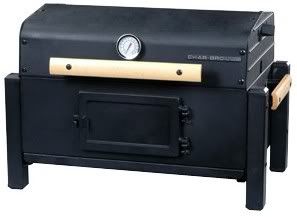 Being a charcoal/wood guy at heart, the
Charbroil CB500x Portable Charcoal Grill
caught my eye. (Yeah, Charbroil needs to hire someone to come up with better names for their grills. Remember the
Double Door Smoker
? Name them something catchy and easy to remember. I needed to search the Charbroil website to find the name of this grill. Totally unmemorable.)
From what I understand, this is not a new design but a reintroduction of one of Charbroil's classics. This portable table top grill is well built and can accommodate a rotisserie which is really a nice feature. I doubt Charbroil's claim that you can indirect grill and smoke on this little guy, it's just too small, but I'd be willing to give it a try.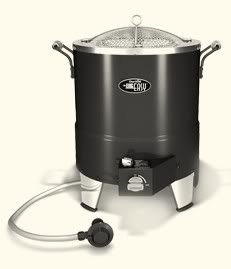 The star of this year's show is
The Big Easy
. The Big Easy is Charbroil's version of the turkey fryer but without the oil. No oil you say? How does that work?
Well, I'll let Charbroil explain it. "Just like a turkey fryer, minus the boiling, hot oil and visits from your local firefighters. It's faster than a smoker, grill or conventional oven, and can cook most large cuts of meat in about eight to 10 minutes per pound. And since it cooks from the outside-in with infrared heat, the meat stays moist on the inside and crispy on the outside."
"Cooking occurs inside The Big Easy's cylindrical, double-walled heating chamber, powered by a fully enclosed propane burner. The turkey or other meat is placed inside a drop-in basket that is lowered into the chamber and cooked with evenly distributed Infrared radiant heat."
Crispy and moist without oil? Yeah. It works. I sampled turkey that was cooked in The Big Easy at Bryant Park that day and it was damn good. You can get a
detailed run down on the food
at Bryant Park from CB over at
Sizzle on the Grill
.
Charbroil just dropped a Big Easy on my front porch. I'm looking forward putting this bad boy through its paces. Living in the big city, I don't usually fry my turkeys for the simple reason I don't have an easy way to dispose of the used cooking oil. Charbroil has solved that issue for me. I'll be reporting back soon.
Labels: barbecue, barbeque, bbq, charbroil, fryer, the big easy, turkey