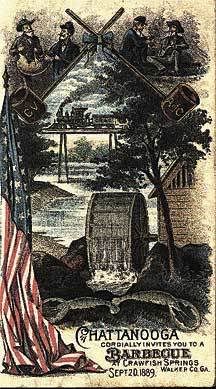 The South will rise again. Or will the North kick some ass? This looks really cool and I'm a sucker for anything that has this type of history.
Fire up the smoker for BBQ contest in Chickamauga
New this year: Chickamauga will hold barbecue contest as part of its War Between the States Day.


This year's War Between the States festivities on Sept. 15 will feature a barbecue cook-off that is in
honor of the "Blue and Grey Barbeque" of Sept. 20, 1889, at the Gordon-Lee Mansion in Chickamauga.
The original post-Civil War feast was hosted by Gordon Lee, who in 1889 was the Seventh District U.S. congressman from Georgia.
The original barbecue was more than 30 years after the Battle of Chickamauga, which took place Sept. 19-20, 1863. Several Union soldiers from every state attended the feast. The barbecue was a peaceful and harmonious success.
An article about the barbecue in the Walker County Messenger on September 25, 1889, read: "The reunion is over and everybody is highly pleased with the way it passed off. The largest crowd that ever assembled at one gathering in Walker County was here on the 20th. People from every State in the Union were here. Peace and harmony throughout the assembly reigned supreme during the entire day — no disturb
This is a photo of the original Blue and Grey Barbeque on Sept. 20, 1889.
ance whatever."
---
Applications for the Blue and Grey barbecue cook-off can be picked up Chickamauga City Hall. The Battle of Chickamauga barbecue contest will be held Saturday, Sept. 15. Judging will take place at 4 p.m. on the front porch of Gordon-Lee Mansion. The contest is limited to 15 teams of up to four people per team. Categories include pulled pork, chicken breasts, and pork ribs. The contest is sponsored by the Bank of Chickamauga. For more information call, call (706) 375-4728 or (423) 902-6330.
---
The estimated number of attendants at the original "Blue and Gre


This is an photo of the tables at the 1889 barbecue.

y" barbecue ranged between 10,000 and 14,000 Confederate and Union veterans. There were 33 tables, for a total of 200 feet of tabletops. The crowd assembled at the tables in an orderly fashion. The vast amount of food was spread throughout the entire crowd, leaving enough of the feast for all who attended.

The 2007 "Blue and Grey" barbecue, sponsored by the Bank of Chickamauga, will honor the original feast of 1889 with a barbecue cook-off. The contest is open to everyone. There will be a $500 per category champion and $1,000 for the overall champion.

The cook-off contest will consist of three categories: chicken breast, pork ribs, and pulled pork.

It is limited to 15 teams of up to four people per team. Judging will begin at 4 p.m. on the front porch of Gordon Lee Mansion on Sept. 15, the day of the War Between the States festivities in Chickamauga. There is a $100 entry fee for the cook-off contest.

Applications can be picked up at Chickamauga City Hall. All checks must be made payable to City of Chickamauga. Participants will be able to sell their barbecue and plates to the general public who attend the festivities

Labels: barbecue, barbeque, bbq, competition