Ya Gotta Have Friends: The Tur-Duc-Hen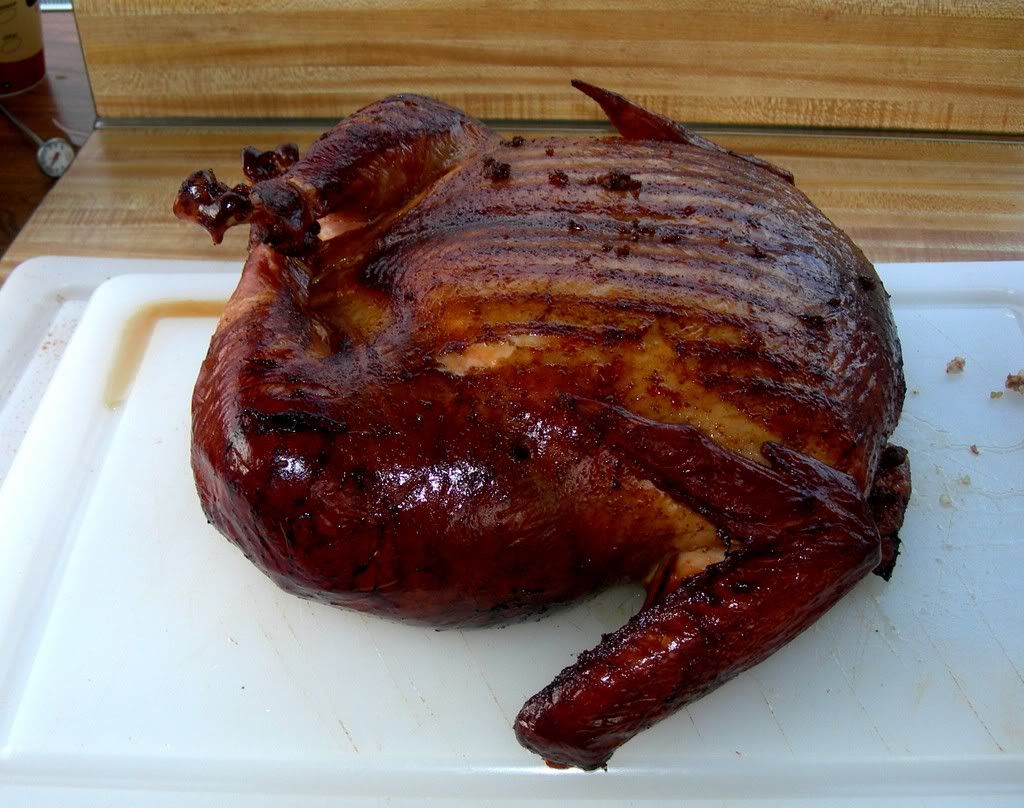 About two weeks ago, I got an unsolicited email from one Steven Dugas at the
Cajun Grocer
. It seems an old friend of mine, Dr. Biggles over at
Meathenge
suggested to Mr. Dugas that I might be interested in trying out this unique bird. Well, Dr. Biggles was right. I've heard much about this legendary beast, but I had never tasted one, let alone cooked one. I was definitely intrigued.
After my usual exchange with the vendor about my rules for review, if I like it I say so - if I don't - I say that too, Mr. Dugas stood by his product and agreed to subject the tur-duc-hen to my pallette and cooking skills. Oh what a trusting fool he is!
What is a tur-duc-hen you say? As you can see from the label a Tur-Duc-Hen is a "stuffed chicken in duck, both boneless, turkey partially de-boned, cornbread pork rice stuffing with creole seasoning." That's easy for them to say. Boy was I looking forward to this.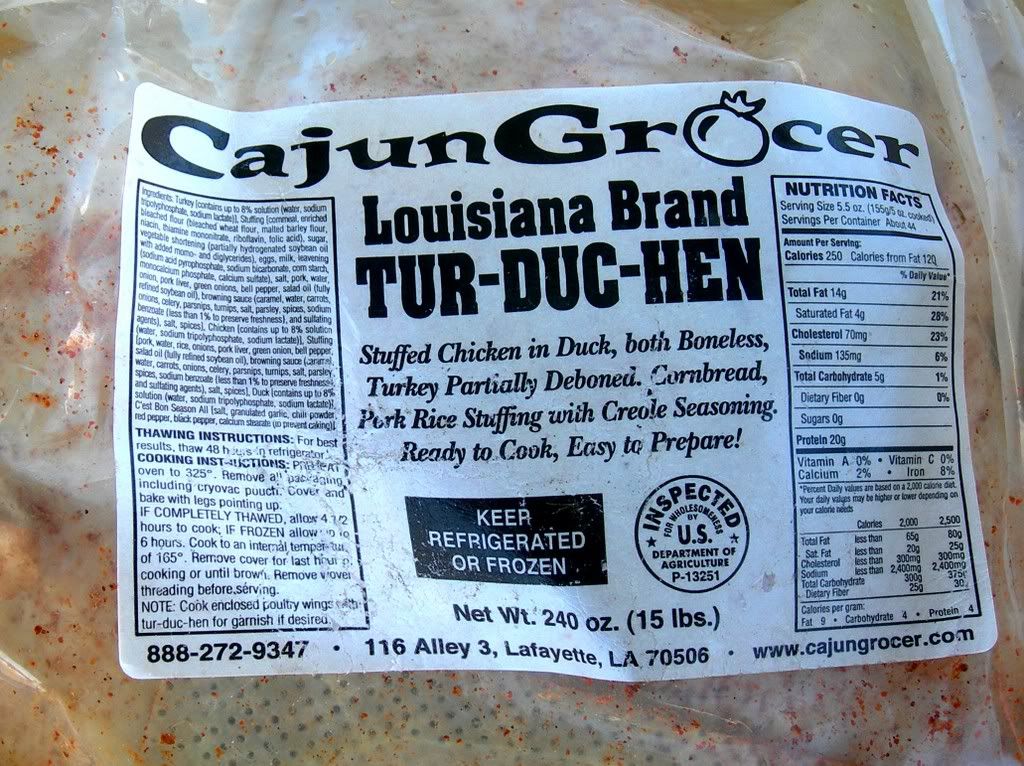 According to the
Cajun Grocer
website, the tur-duc-hen has 44 - 5.5 oz servings per bird. That's a lot of food and not something to cook for the family's typical Sunday dinner.
What would I do with this bird? I know - I'll cook it at
The Hudson Valley Ribfest
. We need to eat on Saturday night, and there will be a lot of people milling around who I'm sure have never tried a tur-duc-hen either. Problem solved. Now how do I smoke it?
Since I was cooking this bird at the ribfest, this meant I was going to smoke it. There as no option for an oven. Looking for advice, I spoke with Mr. Dugas. Unfortunately he had none, so a quick e-mail to Dr. Biggles was composed. He hadn't smoked one yet either, but we both agreed that temps just above normal smoking would work just fine. Basically, we concluded to smoke it like a turkey and ignore the stuffings. One bit of important advice I did get from Biggles, is that the tur-duc-hen takes about 5 days to defrost in the refrigerator. Damn. Best get moving.
So on Saturday night, I built a fire in my trusty
Weber Smokey Mountain
using oak, maple and apple. I brought the temps to 275 degrees and placed the bird in the smoke. Ignoring the label's cooking advice, I started the bird breast side down, thinking that the fat in the duck would help keep the breast meat of the turkey moist.
After about 2 1/2 hours I flipped the bird on it's back and let it cook until it's internal temperature reached 165 degrees. I didn't add any spices or seasonings to the bird, but I did spray it with apple juice every hour or so. Total cooking time for this bird, 5 1/2 hours.
Basically the tur-duc-hen it's a turkey stuffed with a duck stuffed with a chicken. Everything is de-boned except for the wings and legs of the turkey. If you look closely at the picture you can see that in addition to the pork rice stuffing the bird also has a layer of cornbread stuffing.
After letting the tur-duc-hen sit for about 20 minutes we sliced it right across the body. It sliced beautifully. Each slice exposed all three meats and every layer of stuffing. Each meat was juicy and very flavorful. This was a damn nice looking piece of bird meat.
So, how did it taste? I have to say that I sometimes find Cajun spices over whelming. While I do enjoy the heat, the spice sometimes takes over so much that you can't taste the meat. Not so with the tur-duc-hen. The tur-duc-hen was beautifully spiced; just enough heat and flavor to engage the taste buds and to allow the flavors of the turkey and duck to shine through. This was definitely a treat. What about the chicken you ask? It seemed to get lost in the mix.
One very interesting part or the tur-duk-hen I didn't expect was the experience of all the different textures; the turkey, duck, chicken and stuffing. This is a very enjoyable meal.
So will I buy one? Let me put it this way, there wasn't a piece of skin left over that night. Of course I'll buy one. I suggest you buy one too! Imagine how your friends and family will be impressed when you whip out a tur-duk-hen this thanksgiving. My only wish is that the
Cajun Grocer
would come up with a smaller version that I could serve to just the family.
Labels: barbecue, barbeque, bbq, cajun, grocer, hudson valley ribfest, new paltz, tur-duc-hen, turduken