Santa Maria Tri-Tip Steak
This came into my in box this morning. Tri-tip is a great cut of meat and certainly one of the classics for outdoor cooking. If you can find it, try it. You'll like it.
While I don't agree that "many people" consider the Santa Maria Valley of California "the barbeque capital of the world," it certainly has a considerable influence. This article comes to us from CBS and The Early Show.
"BBQ Capital" Boasts Little-Known Edge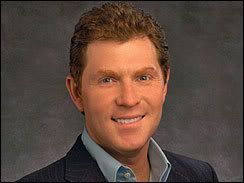 (CBS) When you think of barbecue, places such as Texas, Kansas City, Memphis and North Carolina probably come to mind.
But
Northern California's Santa Maria Valley
is thought of by many as the "barbeque capital of the world."
It features
tri-tip beef
, a little-known cut that's full of flavor.
On The Early Show Thursday, resident chef Bobby Flay gave viewers a taste of tri-tip and Santa Maria.
Flay used the original cowboy grilling method and tri-tip beef to bring old world tradition and smoky flavors to his grill on our plaza.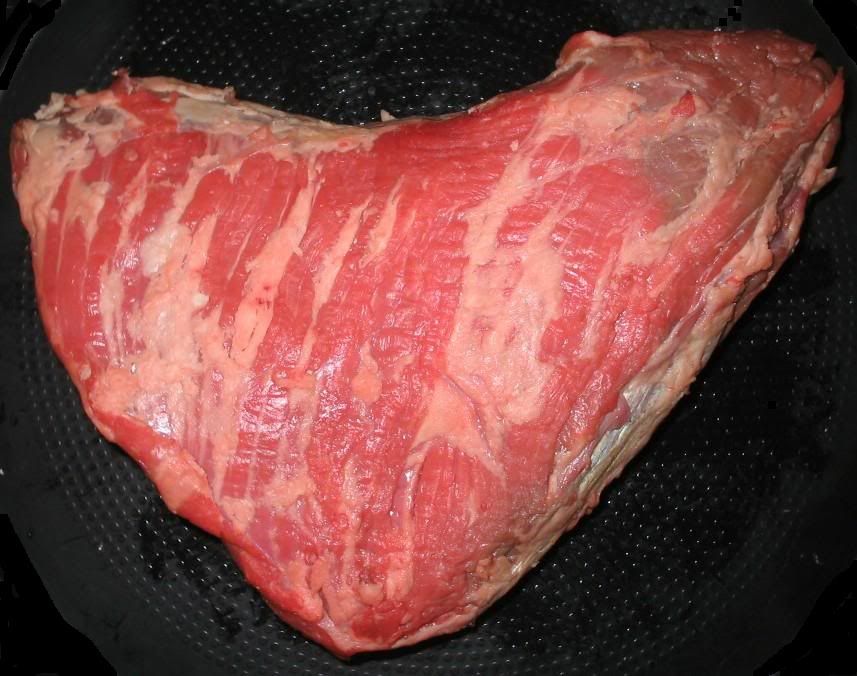 He says tri-tip used to be a very local to Northern California, but is becoming popular with chefs across the country.
Where did it originate? The Santa Maria Valley is a feast for the senses, with lush rolling hills and fragrant fields of strawberries.
But cruise down Broadway on any given weekend, and it's the mouth-watering smell of barbecue that will greet you.
Santa Maria-style barbecue is the authentic taste experience of Santa Maria. The sumptuous feast of barbecued sirloin, salsa, Pinquito beans, toasted French bread, and green salad has been described by Sunset Magazine as the "best barbecue in the world," and the California's Visitor's Guide raves it's the "No. 1 food not to miss while visiting California." It's the featured cuisine at all festive occasions, both public and private, and so thoroughly ingrained in local culture that it's truly a way of life.
Santa Maria Barbecue has its roots in the mid-19th century, when the rancheros gathered to help each other brand their calves each spring. The host would prepare a Spanish-style barbecue as a thank you for his vaqueros (America's first cowboys), family and friends. Under the oaks of the serene, little coastal valley, they would enjoy a traditional feast that included beef barbecued over a red oak fire, served with Pinquito beans, bread, salsa and homemade desserts.
Today's Santa Maria-style barbecue grew out of this tradition, and achieved its "style" some 60 years ago, when locals began stringing their beef on skewers and cooking it over the hot coals of a red oak fire. The meat, either top block sirloin or the triangular-shaped bottom sirloin known as tri-tip, is rolled in a mixture of salt, pepper and garlic salt just prior to cooking. It's then barbecued over red oak coals, giving the meat a hearty, smoky flavor.
The traditional Santa Maria barbecue menu features, of course, the barbecued sirloin, trimmed, sliced, and laid out in metal pans, so the diner may select the desired doneness. The only condiment for this tender and flavorful meat is a fresh salsa. With it is served grilled French bread dipped in sweet melted butter, perfect for soaking up every last bit of the flavorful meat juices. Also served on the side are a tossed green salad and slow-cooked Pinquito beans. For the most authentic Santa Maria barbecue experience, select a robust Santa Maria Valley wine to accompany your meal. The tasty feast is finished with coffee and a simple dessert.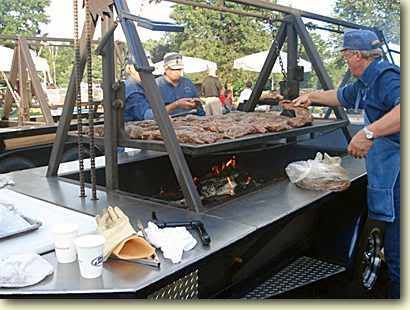 Once a well-kept local secret, word of Santa Maria-style barbecue has spread around the world, enticing travelers to come by the thousands, seeking a taste of this local specialty, and it's not difficult to find. On a typical Saturday, you'll see clouds of fragrant smoke billowing through the air, leading you to numerous barbecues throughout the city. They range from outdoor feasts along Broadway that are sponsored by schools and local charities, to restaurants offering a more formal dining experience, to backyard cookouts in which families enjoy their own recipes that have been passed down through the generations.
It's no wonder Santa Maria is often called the "Barbecue Capital of the World"!
FOOD TERMINOLOGY
TRI-TIP BEEF
(aka bottom sirloin): The tri-tip is a cut of beef from the bottom sirloin primal cut. It's a small, triangular muscle, usually one-and-a-half to two-and-a-half pounds per side of beef. In the United States, this cut was typically used for ground beef or sliced into steaks until the late 1950s, when it became a local specialty in Santa Maria, rubbed with salt, pepper, and spices and cooked whole on a rotisserie or grilled. (The tri-tip is still often labeled "Santa Maria steak")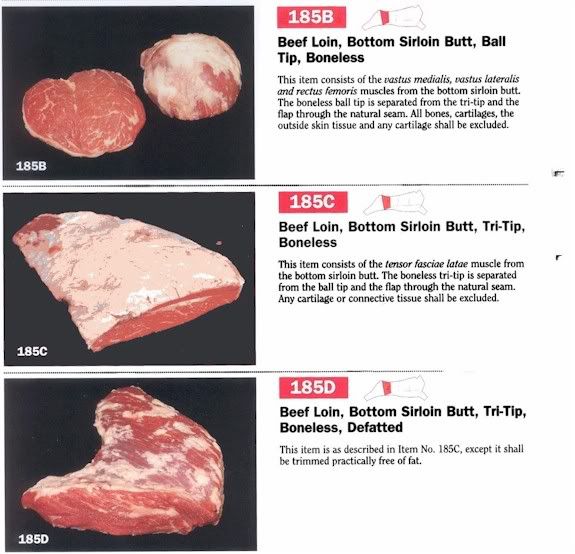 Tri-tip is now available in most of the U.S., though it remains a relatively overlooked cut. Most popular in central California, it's begun to enjoy increasing popularity elsewhere for its full flavor, lower fat content, and comparatively lower cost.
Tri-tip is a very good cut of meat. However, usually, by the time you've trimmed the excess fat, you'll find it's more expensive than top sirloin. Tri-tip is mostly used for family barbecues and fund-raising events, since the cuts are small.
Tri-tip has become a popular cut for producing Texas Red Chili Con Carne on the competitive chili cooking circuit.
This cut is very versatile in how it can be prepared. While the preferred method is slow-smoking, tri-tip can also be marinated or seasoned with a dry rub, and cooked over high heat on a grill, on a rotisserie, or in an oven. After cooking, the meat is sliced across the grain before serving.
Tri-tip may be more difficult to find in some areas of the country, but because it comes from the loin portion of the cow, any sirloin or tenderloin cut will make a suitable alternative.
RELISH:
A relish is a cooked or pickled, chopped vegetable or fruit food item, typically used as a condiment. The item generally consists of discernable vegetable or fruit pieces in a sauce, although the sauce is subordinate in character to the vegetable or fruit pieces. It might consist of a single type of vegetable or fruit, or a combination, and the fruits or vegetables might be coarsely or finely chopped, but generally, a relish is not as smooth as a sauce-type condiment, such as ketchup. The overall taste sensation might be sweet or savory, hot or mild, but it is generally a strong flavor that adds excitement to or complements the primary food item it is served with.
Chutneys might be considered a type of relish.
Crosse & Blackwell
says, "Chutney is typically made with fruit; relish is normally made with vegetables."
In the U.S., the most common commercially available relishes are pickle relish. Two variants are hamburger relish (pickle relish in a ketchup base or sauce) and hotdog relish (pickle relish in a mustard base or sauce). Other readily available commercial relishes in the U.S. include corn relish.
Heinz, Vlasic, and Claussen are well known in the U.S. as producers of pickles and relishes.
Pickle relish can be mixed with mayonnaise to make tartar sauce, and piccalilli can be mixed with mayonnaise or crème fraîche to make remoulade.
RECIPES
Santa Maria Style BBQ Tri Tip
Serves: 4-6
2 tablespoons kosher salt
1 tablespoon garlic salt
1 tablespoon freshly ground black pepper
One two-and-a-half pound tri-tip roast, fat trimmed
Canola oil
1. Heat the grill to high
2. Combine the salt, garlic salt and pepper in a small bowl. Rub both sides of the beef with the rub and drizzle with a few tablespoons of the oil. Place on the grill and cook until golden brown on both sides and cooked to medium-rare doneness, about 15 minutes total. Remove from the grill, let rest for 5 minutes before slicing across the grain into thin slices.
Santa Maria Pinquito Bean Relish
1/2-pound slab of bacon, finely diced
1 medium Spanish onion, finely diced
1/2 poblano chile, finely diced
2 cloves garlic, finely chopped
2 cans pinto beans, drained, rinsed and drained again
Salt and pepper
1. Heat a large sauté pan over medium heat. Add the bacon and cook until golden brown and the fat has rendered. Remove the bacon with a slotted spoon to a plate lined with paper towels.
2. Add the onion and poblano to the bacon fat in the pan and cook until soft, 3 to 4 minutes. Add the garlic and cook for 30 seconds. Add the beans and cook until warmed through. Fold in the cooked bacon and transfer to a medium bowl.
Tomato Relish
2 ripe beefsteak tomatoes, finely diced
1/2 small red onion, finely diced
2 cloves garlic, finely chopped
1 serrano or jalapeno chile, finely diced
3 tablespoons olive oil
2 tablespoons chopped fresh flat leaf parsley or cilantro
Salt and freshly ground black pepper
Combine all ingredients in a medium bowl and let sit at room temperature before serving.
Grilled French Bread
1 loaf French bread, split lengthwise
1-1/2 sticks unsalted butter, at room temperature
Salt and freshly ground black pepper
Place bread on grill, cut side down and cook until lightly golden brown, flip over and continue cooking for 30 seconds longer. Remove from the grill and spread the butter over the cut side and season with salt and pepper.
© MMVII, CBS Interactive Inc. All Rights Reserved.
Labels: barbecue, barbeque, bbq, bobby flay, cbs, early show, grilling, santa maria, steak, tri-tip