BBQ Meat: American Lamb
Sorry to all the newsreaders out there who just got a blank post. Here comes the real one.
I got an email the other day from Rachelle Lacroix from the
American Lamb Board
inquiring if I would be interested in trying out some American lamb. "Hell yeah," I said. "We love lamb at my house. Send it on over."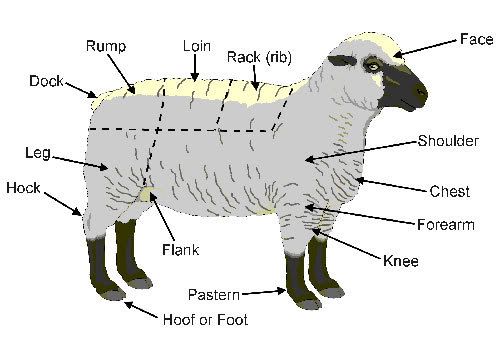 In her note she included an interesting fact, "The American Lamb Board found in its January 2007 study of 500 consumers that 1 out of 3 Americans have never cooked lamb at home." Wow, that's ashame, because lamb is a great, tasty and easy to prepare meat. We cook it all the time in the winter and spring, but rarely on the grill.
But, American lamb? I rarely see American lamb in stores. My local supermarkets don't carry it and my warehouse club only carries lamb from New Zealand. On the first season of Top Chef they made a big deal about serving Colorado lamb. I don't know if I've ever had American lamb.
What makes American lamb so special?
According to their website:
Freshness – No Frequent Flyer Miles

. American Lamb travels up to 10,000 fewer miles than its foreign competition. That's an advantage that speaks for itself.

Flavor – Mild, Buttery.

How does American Lamb get this great mild, buttery flavor? It's how we raise them. American Lamb are fed a combination of mixed grains and mixed grasses; this feed contributes to a milder flavor and less gamey texture than imported lamb that are fed a diet of mixed grasses only.

Value – Bigger, Meatier.

American Lamb yield more meat on the bone than imported lamb. A 2002 study reported that the eye of an American Lamb rib chop provides 38% more meat than Australia and New Zealand rib chops. Also, the cost of American Lamb is comparable to that of other premium meats. (Source: Genho, M.R. 2002 Enhancing the retail market for American Lamb. M.S. Thesis, CSU)

Availability.

Several value cuts of American Lamb are available year round. These include leg, shoulder, ground lamb, shanks and ribs.

Ease of Preparation – Easy and Delicious.

American Lamb, because of its mild flavor, lends itself to a variety of flavorings and cooking methods. Also, it does not require complicated recipes to prepare a delicious dish.

Overall Meat Quality – Bred for Meat, Not Wool.

American Lamb are bred primarily for quality meat. Imported lamb are bred primarily for quality wool. American lamb reflects this difference in its overall superior quality to that of imported lamb.
So on Thursday I was delivered a neat little cooler containing a 6 to 8 lb boneless leg of lamb, a set of skewers, a package of dried rosemary, a package of dried oregano, an instant read thermometer and some recipes.
And today? I'm out to the backyard to grill up a butterflied leg of lamb with mustard and rosemary using the recipe in the kit. I'll post the results soon.
Labels: american, barbecue, barbeque, bbq, grilling, lamb, recipes