Book Review: A Man's Guide to Grilling
A Man's Guide To Grilling
Men's Health
Special On sale until July 17, 2007 - Rodale, Inc.
Adapted from:
The Ab's Diet Get Fit, Stay Fit Plan
(David Zinczencko with Ted Spike, Rodale)
A Man, A Can, A Grill
(David Jochachim, Rodale)
Peace, Love and Barbecue
(Mike Mills and Amy Mills Tunnicliffe, Rodale Inc.)
OK, I admit it, this book, more of a magazine really, took me by surprise. I was perusing the local "men's interests" section of my favorite
Barnes and Noble
and came across A Man's Guide to Grilling. By now you must know that barbecue and grilling books always attract my attention. I put down the magazine I was perusing but had no intention of buying and purchased A Man's Guide to Grilling. It was the safe bet I could read this on the subway, not so with the other magazine.
A Man's Guide to Grilling starts off promising with a great introduction about grilling and some spot on cooking advice by
Anthony Bourdain
. I love the fact that he knows the difference between grilling and barbecue and is humble enough to admit that he knows squat about the latter. His best advice about grilling and cooking in general is, "Above all, experiment. Feel free to fail. It's the way I learned. It's the way cooks have mastered their craft through centuries. And it's a hell of a lot of fun."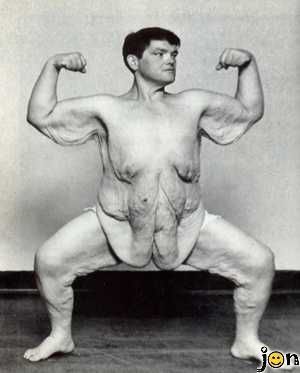 A Man's Guide to Grilling then turns to the BBQ legend Mike Mills for advice on tools and equipment with a chapter lifted wholesale from his outstanding book, Peace Love and BBQ. It then talks about knives, grills and food safety. I found the chapter on food safety a bit of a turn off. I know it's important, but coming right before the recipes it made me loose my appetite. And it's downhill from there.
Now we reach the heart of the book, the recipes. What can I say about the recipes. Well, first off, if you already have Peace Love and Barbecue and A Man, A Can, A Grill, you already have all of them. The majority of the recipes come from A Man, A Can, A Grill and are the type of recipes that would make Sandra Lee proud; 70% pre-packaged store bought ingredients. It's a real mixed bag.
The book concludes with an exercise program and a diet! WTF? Well, I guess I shouldn't be surprised as this book is published as a part of
Men's Health
, but c'mon. Sprinkled through out the book are pictures of half naked, sculpted and hairless men's bodies. Now, I've been on the barbecue circuit. Trust me, there are no sculpted and hairless men out there cooking the real stuff. Half naked - sure, but hairless and sculpted - no way.
Don't waste your money on this throw away.