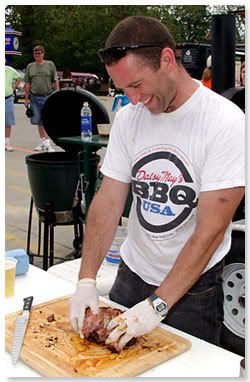 This post is overdue.
I want to thank Adam Perry Lang and the folks over at
Daisy May's BBQ
for donating pulled pork, beans, coleslaw and cornbread for a fund raiser my daughter's school was having.
The school was holding its annual "International Day" which celebrates its students cultural diversity with foods of all nations. My wife and I were responsible for America and what is my more American than barbecue? I called Adam and he responded graciously and was much more generous than I had any reason to expect.
Adam's food, especially the pulled pork and beans, was the hit of the fund raiser. Gee - what a surprise.
Adam
, my friend, thank you very much.
Photo courtesy of Daisy May's BBQ USA
Labels: adam, barbecue, barbeque, bbq, daisy mays; RUB; Smoke Joint; Ranger Texas; Pies, lang, perry, pork, pulled, restaurant