Book Review: The Stubb's Bar-B-Q Cookbook
Last night on my way home from work, I stopped in the
Barnes and Noble
bookstore on Broadway and West 81st Street in Manhattan. This bookstore always surprises me. Besides having all the latest books, it has one of the best selections of barbecue cookbooks in New York. They may only have one or two copies of a particular book, but I always find something new here. This Barnes and Noble seems to always have a barbeque cookbook I've never seen before.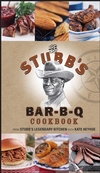 Last night I picked up
The Stubb's Bar-B-Q Cookbook
. I was really surprised to find a new cookbook by Stubb, since he's been dead a few years already, but this is ghost written by
Stubb's Legendary Kitchen
(whomever that is) and
Kate Heyhoe
. I like to read cookbooks like novels and you'll often find me reading them on the subway. I tore into this one as I headed downtown.
This is a very attractive little book. The layout is great and the pictures and food styling outstanding.
The Subb's Bar-B-Q Cookbook
opens up with the story of Stubb and his legendary BBQ joints in Lubbock and then Austin Texas. I'm sure the man's story has been sanitized some, for here he is painted as a saint who liked to boogie down and was never too tired to feed the poor and hungry of Texas.
While I'm sure he was a good man, I would have preferred to read more about his cooking styles and methods. I would have loved to have read about his struggle in the restaurant business, which is repeatedly alluded to in the book, but never fleshed out.
So what about the recipes? This is a small cookbook with maybe 50 or so recipes. Most reflect the Texas/Southwest style that is popular in Austin and Lubbock. A select few are actually about barbecue, which was a major disappointment for me. Another disappointment is that many of the recipes call for the use of Stubb's rubs and sauces as major ingredients. It's as if the authors have been working with Sandra Lee and not Stubb himself.
The Subb's Bar-B-Q Cookbook
is a quick read and the recipes are well thought out. But with all the pushing for Stubb's products in the ingredient lists, this book seems to be nothing but a finely bound sales pitch.
ISBN: 978-0-471-97996-8, Hardcover, 108 pages, February 2007
Labels: austin, barbecue, barbeque, bbq, cookbooks, lubbock, stubb