'SWINE'S FLESH' OFF THE MENU
Here's an interesting story about Charley Romani, a BBQ restaurateur out in Oregon who changed his religious beliefs and how it has effected his business. While I don't adhere to his version of Christianity, you certainly have to admire him for following his convictions.
Of Belief and Barbecue
Barbecue restaurant owner finds business fading due to religious beliefs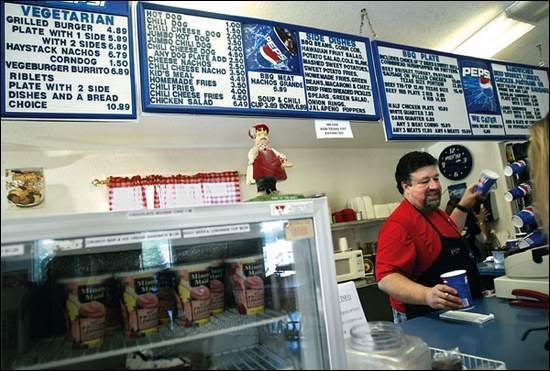 Charley Romani has learned that religion and barbecue don't always have room on the same plate.
Romani, owner of Charley's Barbecue in Roseburg, built his business up from a renovated espresso cart in the Kmart parking lot. He cut slabs of meat from the back of a trailer and sold sandwiches year-round, often in the cold, rain and wind. He developed enough of a following to open a restaurant on Harvard Avenue in 2004. The business was sustaining itself financially for its first two years. It didn't take long for Romani to hire a staff of eight, allowing him to work less and enjoy time away from the smoker.
In the last eight months, however, he's watched business decisions based on his conversion to the Seventh-day Adventist Church adversely affect the restaurant.
Charley's Barbecue is closed on what were its busiest days because Romani observes the Sabbath -- sundown Friday to sundown Saturday. Catering jobs on those two days now go elsewhere as well. Pork, a barbecue staple, was taken off the menu. "I had to weigh the risk of what I believe God said to do in the Bible versus the way I run my business," Romani said.
That risk has not paid off financially. The restaurant's staff has been cut in half. Romani had to sell his river boat. His home is on the market.
The business is also for sale. Romani believes it could be profitable again under new ownership, but he has to find a new calling for himself.
"Faith is doing something you don't understand all the time," he said. "God will take care regardless, even if it's to my own harm."

'SWINE'S FLESH' OFF THE MENU
Adam and Eve, Romani said, were vegetarians. Heaven is a vegetarian place.
Romani said the church teaches that earth can be the same way. It's not mandatory to swear off meat, Romani said, and he hasn't done that completely. "It's kind of hard to be a vegetarian working in a barbecue restaurant," he said. "It's kind of like an alcoholic still working in a bar."
He no longer eats pork, though, and took it off his menu. Romani said pork had been the restaurant's favorite dish, selling more than "anything else combined." When he took it off the menu, some customers took it personally, storming out of the restaurant.
Romani was even told to his face that he was committing "financial suicide."
It was important to Romani, though, to follow what he believes is taught in the Bible. In a pamphlet from the church called "God's Free Health Plan," pork's banishment from the dinner menu is made clear.
It references the Bible in stating that "swine's flesh" is "unclean," an "abomination" and those who eat it "will be destroyed with fire at the coming of the Lord." "When God says to leave something alone and not eat it, we should by all means obey him," the pamphlet states.
Romani replaced pork with smoked pastrami. He also started offering vegetarian options.
It didn't help. By summertime 2006, Romani put the business up for sale.
Romani said he still owes three investors from the startup of his business. In selling it, he's looking to fulfill his financial obligations.
He doesn't want to get rich from it, nor does he expect that. At the same time, he would like to see the business continue.
Romani said a new owner who opens up the restaurant again on weekends and again caters for weekend events like weddings and parties will again make the business profitable.
He said he's had some interest from potential buyers, but he might soon be forced to cut his losses. "I don't know how much longer I can keep my doors open," he said.
You can read the rest of the article
here.
Labels: barbecue, barbeque, bbq, editorial, meat, pork, restaurant