Pig Out - Czech Style
I just got this in my email. Seems our friend Stacey Ornstein over at
Just Braise
has discovered a great yearly pork festival held at
Bohemian Citizens' Benevolent Society of Astoria, Queens, NY
.
Check it out, but you better hurry. It's today and tomorrow only. It sounds like a lot of fun. Thanks for the heads up Stacey!
Pig Out Astoria Pt. 1 — Pork Fest Returns
Stacey Ornstein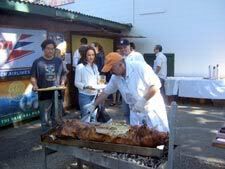 "If you want a subject, look to pork," said Charles Dickens. The Czechs listened and we have all benefited.
In the Czech Republic, the annual celebration of traditional food, music and dance is known as Winter Festival. Locally and lovingly, it is simply dubbed Pork Fest.
After a year's hiatus, the Bohemian Beer Garden is bringing back the bacon to Astoria Feb 15 18. The weekend long event is sponsored by the Bohemian Citizens' Benevolent Society of Astoria, whose mission is to promote Czech and Slovak culture in the United States. Regardless of one's family stock, all are welcome — just bring a penchant for pork. The main festivities will take place in the large upstairs gymnasium with picnic style tables for large groups and families, and activities throughout the building. The stage will showcase traditional music and dance performances, including the society's own children's dance troupe.
Most importantly, there will be plenty to pig out on. New Head Chef Martin Maly is planning a solid menu of Czech Slovak pork dishes. As in years past, Otto Kupka will make his famous (to those in the know) sausage. Mrs. Kupka will forgo her "mean strudel" this year to prepare her signature dumplings.
If the weather is mild, there will be a heated outdoor dining area with a suckling pork roasting nearby. If it's too cold, roasting will take place in the kitchen. Headcheese and fried pig ear lovers should be sure to return at the end of the festival on Sunday, when the pork heads will be raffled off.
Pork Fest will be held at the Bohemian Hall and Beer Garden, 29 19 24th Ave., Astoria, this Thursday and Friday 6 midnight; Saturday 2 p.m. 4 a.m. and Sunday, 2 p.m. midnight. Admission is free; expect to pay about $12 for a meal and $14 per pitcher of Czech beer. Call ahead for performance schedule (718) 274-4925.
Labels: barbecue, barbeque, bbq, festival, grilling, new york, pork, queens