Dissin the Dish
Since it's still cold in NYC and I haven't had time to cook anything, not even a grilled cheese sandwich, I'm pointing you guys to a few interesting articles out on the net today.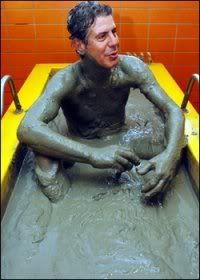 First, Anthony Bourdain takes a bunch of shots at the chefs, pseduo chefs and execs over at the
food network
in
Ruhlman's blog
. Seems Mr. Bourdain isn't happy with the lack of food on food TV. Interesting takes and I agree with some of it, but wait a minute, doesn't Anthony Bourdain have his own
show
to promote?
Second, Do you want to run a restaurant? Slate has an interesting article about the saga over
opening and closing a local coffee shop
.
And lastly, something from the world of barbecue. Take a look at
Get Your Grill On
. It's a new, well relatively new, compilation of blogs about outdoor and live fire cooking. In the interest of full disclosure, I am the editor over there and really proud of the group of fine writer's from around the world we've assembled. Spend some time at
Get Your Grill On
, you'll be glad you did.