White Trash Recipes: 3 Bean Chipmunk Chili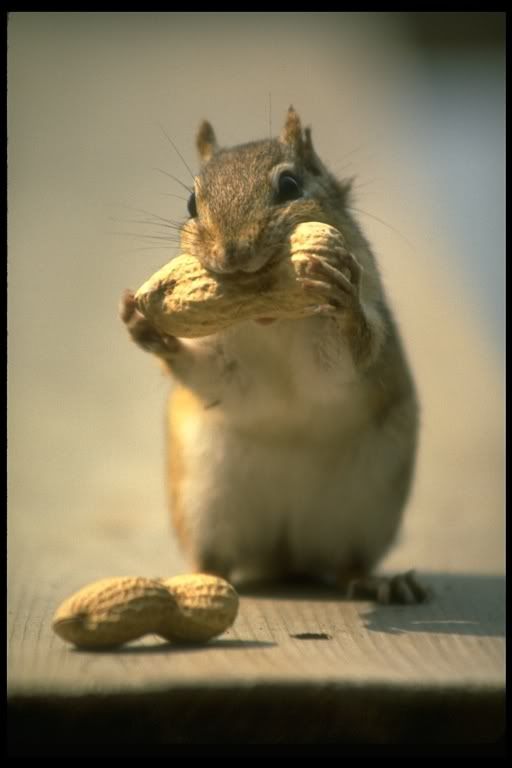 In the spirit of our WhiteTrash Christmas and Bob River's 'Chipmunks Roasting on an Open Fire,' check out this recipe for
3 Bean Chipmunk Chili
that I found over at
Twisted Christmas
. If you get going with this now, come spring you can have some fine eats. But wait a minute -- don't chipmunks
hibernate
?
First, you are going to need about 10 or so fat chipmunks - best thing to do is capture the little buggers and fatten them up. This way you can make sure they are disease free. Also, you can monitor what they eat. Unless you don't care then, just go out and hunt down 10-15 chipmunks. If you use a shotgun, please make sure to remove all shot from the meat first. IF you use any "Road Meat" chipmunks, please make sure they are fresh kills - makes it easier to peel the fur off.
Use a cat capture cage, bait it with peanut butter. Once you have captured about 10 to 15 of the little guys, set them up in large cages (each cage should measure 4 x 4 at least). Do not put more than 1 or 2 to a cage. Give them bird houses to live out of.
Now for the next 2-3 months, feed those little guys. Plenty of veggies, (carrots apples, etc.) nuts, (walnuts, etc. shells off) fresh water (put some vitamins into the water), oatmeal. Keep the cages clean.
When the day comes, just shoot the little buggers right there in their cages. Make sure you decapitate them right after and strip their fur off. Hold them upside down to make sure all the blood runs out.
Save the fur - you can make a nice pair of gloves with them later.
With a sharp knife, de-bone the little guys, but save the bones. Once you have your pile of bones, put them in a 2 qt pan and boil them. You will use this as your stock for your chili.
Chop up meat into fine pieces or grind.
2 lb. Chipmunk meat pieces
1 small yellow onion, chopped
1 small green pepper, chopped
2 cans (16 oz. each) Dark Red Kidney Beans, undrained
2 cans (16 oz. each) Pinto Beans, undrained
2 cans (16 oz. each) Black Beans, undrained
1 can (14.5 oz.) diced tomatoes, undrained
1 can (6 oz.) tomato paste
2 envelopes chili seasoning mix 1/2 tsp.
Ground Cinnamon 1-1/4 cups Sour Cream
Use your broth you made from the bones to boil the meat in a large sauce pot on low heat.
Make sure you do this slowly, use a slow cooker to make the meat tender. Cook for about 3 hours on low heat. Then let it set for 30 minutes and skim off any fat.
Add onion and green pepper; cook until tender, bring up to a low boil on medium heat, stirring frequently.
ADD all remaining ingredients except sour cream; mix well. Bring to boil; cover. Reduce heat to medium-low; simmer 20 minutes, stirring occasionally.
SPOON into soup bowls; top with sour cream.
Great Substitute:Prepare as directed, substituting 2 pkg. (16 oz. each) thawed
frozen Ground Turkey
There you have it.
Photo of the squirrel courtesy of exzooberance