Recipes?
I was reading my friend Scott's blog
Sugar and Lard
the other day. He was talking about how he's a recipe-aholic. Cutting articles out of magazines, newspapers, off product labels, he does it all. He even fantasizes about how someday, he'll actually be able to use all his snippets of paper.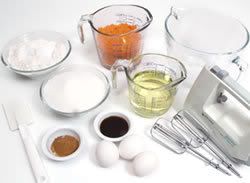 Well, I'm kind of the same way, but I collect recipes digitally. I can't tell you how many recipes I have taken off the net over the past few years and squirreled away somewhere on one of the many computer networks I deal with. Someday, I'll cook them all. Yeah, that's right. Someday.
But to be honest, my real problem is that I almost never actually follow a recipe. Oh, I'll read them. Oh, I'll swear to make it. Oh, I say, let's go get that jar of
fenugreek
that I need for this and never use again. But I never do.
To me recipes are a source of inspiration. I read them, think about them and then adapt them to what I have available. Occasionally I will follow a recipe, but once. Only once. Then it's mine to manipulate and massage. Very rarely have I been disappointed. How about you?