The Great North Carolina Pork Battle
Since we spent our last post on Faux-BBQ, let's spend some time talking about the real thing.
You all know about the great wood vs. gas debate when it comes to outdoor grilling. I say grilling, because readers of this blog already know that gas grills are unsuitable for use in barbecue.
But do you know about the North Carolina pork barbeque debate? It seems that the fine folks in North Carolina agree that the only meat that qualifies as BBQ is pork. (Not that I agree with that) But they just can't seem to agree on how to make it. Either way works just fine for me!
Pig out!
Despite barbecue style differences, North Carolina agrees on the meat
By
TOMMY SIMMONS
Advocate food editor
Published: Nov 2, 2006
LEXINGTON, N.C.
East is whole hog, and West is hog shoulder, and never the twain shall meet when it comes to cooking and eating North Carolina barbecue.
Well, that''s not entirely true. There is one thing that barbecue cooks from both sides of the state agree on, said Kathleen Purvis, food editor of
The Charlotte Observer
newspaper in Charlotte, N.C., and that is what they are cooking.
"When you talk barbecue in North Carolina, you're discussing pork— not beef, chicken, goat or lamb; pork and pork only,"" she said.
Bob Garner, author of
North Carolina Barbecue: Flavored by Time
, explained the differences in east and west North Carolina barbecue during a program for the Association of Food Journalists held at a
Childress NASCAR Racing Shop
in Lexington, N.C.
"Lexington-style (western North Carolina) barbecue is generally juicier, smokier, sweeter and milder than its counterpart in eastern North Carolina. Whereas barbecue flavored by wood smoke is only an option in the east, in Lexington it is, with a few exceptions, an unspoken but unyielding expectation.
"The tangy, red barbecue slaw is usually the spiciest part of a Lexington barbecue sandwich, whereas the milder, creamier coleslaw on an eastern-style barbecue sandwich is meant to balance the relatively fiery pulled pork,"" Garner said.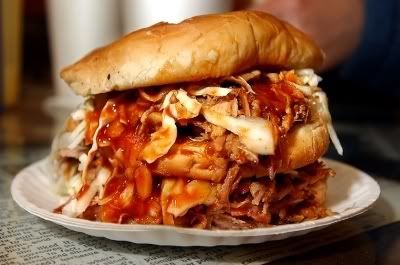 Western North Carolina pork barbecue is finely chopped, coarsely chopped and sliced, it is sometimes referred to as pulled pork, but that is inaccurate, said Cecil Conrad of
The Barbecue Center
in Lexington.
The western North Carolina barbecue, which is sometimes referred to as Lexington barbecue, starts with a pork shoulder. The shoulder is seasoned with salt and pepper only. No marinades or sauces are brushed on before the pork is cooked. The pork shoulder is slow cooked over wood. Sauce, basically a spicy vinegar-style sauce with a tangy flavor, is served at the table after the pork is fully cooked and sliced or chopped.
Chopped pork sandwiches topped with red coleslaw made of finely chopped cabbage mixed with a dressing containing equal parts of apple cider vinegar and ketchup and a dash of
Texas Pete Hot Sauce
are the most common presentation.
Conrad said cooks build the sandwich by piling the chopped pork on one side of a steamed bun. The pork is then topped with a scoop of red coleslaw, and the bun is closed. Then, the sandwich is allowed to sit for a few minutes to allow the juices from the pork and the slaw to soak into the bun.
A Lexington pork sandwich plate is usually served with sides of hush puppies, fried potatoes or corn sticks, sliced dill pickles and additional coleslaw. The ""house wine"" in Lexington is sweetened iced tea.
Eastern North Carolina barbecue comes from a 125-pound whole hog. The whole hog is seasoned and brushed with a tomato and apple cider vinegar-based marinade as it cooks.
Once cooked, the whole hog offers a variety of meat textures and tastes, from shoulder meat to ribs, legs to jowls. The whole hog meat is generally spicier tasting because it has been basted as it cooks.
Ed Mitchell of Wilson, N.C., specializes in whole hog barbecue. He believes that the tomato-based sauce enhances the flavor of the pork and recommended that the sauce be served at the table as a dip for the cooked pork, which is sliced or pulled.
Mitchell accompanies the whole hog barbecue and sauce with collard greens, potato salad, white coleslaw, plain boiled potatoes, fried corn sticks and Brunswick stew, a red-colored stew usually containing lima beans, tomatoes, corn, onions and chicken or game.
""Because barbecue is so popular today, we mistakenly believe that it was everyday fare in North Carolina a hundred years ago,"" noted Garner. "Barbecue was not served everyday,"" he explained. "It was the official food of celebration, a food cooked and served for a special occasion. Barbecue was a shared food, too popular at church fundraisers and fairs. "
"The term 'pig pickin' came later because most of the barbecue was chopped or sliced off the bone before serving," Garner added.
Conrad said there are several theories as to why the Lexington-style barbecue was finely chopped or minced before serving. One, he said, is that the cooked pork was chopped fine because of the poor dental health of the mountain people. The chopped pork was easier to eat and enjoy.
Because barbecued pork was a food of celebration and "good times," Garner said, barbecue has become the recognized food of choice served at North Carolina NASCAR events. Many racing teams have their favorite pit masters join them on the racing circuit.
Jessica Bennett with the Lexington, N.C., Chamber of Commerce suggests that barbecue and NASCAR fans come to Lexington where they can find both barbecue and NASCAR racing shops and the Richard Childress Racing Museum. The Lexington Web site is
http://www.visitlexingtonnc.com