BBQ Equipment: Stumps Smokers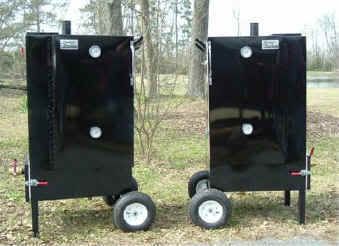 Some big news in the world of barbeque equipment.
Stumps Smokers
has just reached a deal with
Viking Appliances
to sell and distribute their cookers. To date, most of the high end cookers like
Klose
,
Gator
, Lang etc have all been small Mom & Pop companies with limited distribution chains. It looks like that's about to change. Start looking for
Stumps Smokers
showing up wherever
Viking
is sold.
I hope this is a good thing.
Stumps
makes some pretty good
equipment
. I hope the new merger doesn't reduce the quality level of their product.
Here's the announcement as it was posted on the
Stumps Forum
...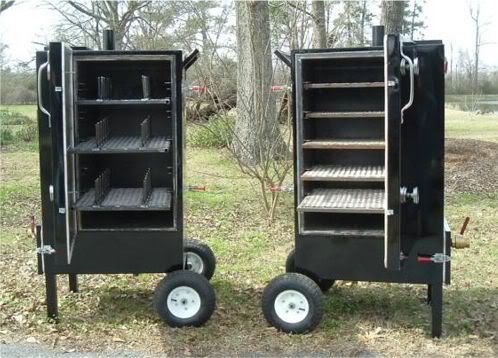 "I WANT TO LET EVERYBODY KNOW WHAT IS GOING ON WITH STUMP'S SMOKERS INC. (THE BEST SMOKER ON THE MARKET, MAYBE ONE DAY SOON I'LL GET ONE) STUMP'S SMOKERS INC. IS COMBINING WITH MAPLE HOLLOW BBQ COMPANY WHICH OWNS THE VIKING STORES AND SELLS VIKING COOKING EQUIPMENT WHICH IS TOP OF THE LINE IN THE APPLIANCE WORLD. I WILL STILL BE IN CHARGE OF THE STUMP'S SMOKERS DIVISION WHICH IS LOCATED IN CENTERVILLE, GA. THERE WERE MANY REASONS WHY I DECIDED TO TAKE THIS PATH AND THOSE OF YOU WHO ARE CLOSE TO ME UNDERSTAND WHY. THERE WILL BE SOME CHANGES TO THE WEBSITE, BUT THE FORUM WILL STILL BE THE SAME. WE WILL STILL BE BUILDING SMOKERS WITH THE SAME QUALITY AND WORKMANSHIP THAT HAS BROUGHT US TO THE TOP OF THE MARKET. WE WILL ALSO BE BRINGING A FEW MORE MODELS AND OPTIONS INTO THE MARKET. I AM VERY EXCITED ABOUT SOME OF THE NEW STUFF WE WILL BE OFFERING AND I THINK YOU WILL TOO. "