BBQ Equipment: Knives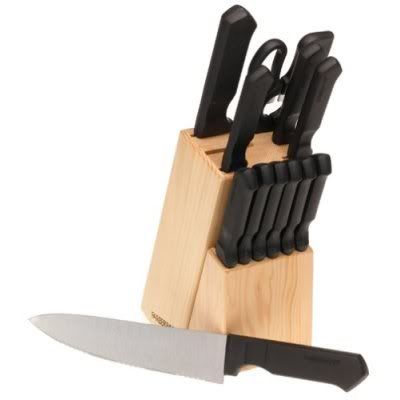 I recently purchased an everyday knife set for use at home. Money's tight and I guess I gave in to impulse and purchased a "budget" (I didn't want to say cheap) knife block set from
Farberware
at the local supermarket
Stop and Shop
.
It's an OK set, and certainly sharper than anything we have in the drawer, but I should have waited and bought some real knives.
It's funny, I love to cook and we've been married almost 20 years and we still don't have any decent knives. Maybe when I grow up, I'll realize you get what you pay for, bite the bullet, lay out some real cash and buy a set of professional knives.
But back to my new
Farberware
set. Unfortunately, I didn't keep the box, so I have no idea which
Farberware
line of knives I've purchased. There's no identification on the knives or the block, but it looks a lot like the picture. They only difference is that my knives have what appear to be 3 rivets in each handle.
It's got 6 steak knifes, a paring knife, bread knife, chef's knife, kitchen shears and a couple of other pieces, all stored in an attractive wood block. It was on sale for $19.99. I got it home, unpacked and washed the knifes and placed them in the attractive wood block which I then positioned within easy reach on the kitchen counter.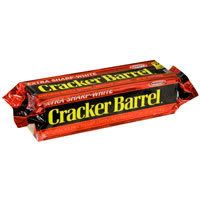 Two days later, I used one of the steak knives to cut a piece of cheese. It wasn't a large block of cheese, just your standard
Cracker Barrel
block of cheddar, and the knife broke. The handle broke and the blade came out of the handle. I'm not happy.
Unfortunately I didn't save the receipt or the box, so
Stop and Shop
won't take it back. I've contacted
Farberware
by e-mail through their website asking them to make it right. (Boy does
Farberware
have a lousy website!)
I just sent them the e-mail today, so don't assume anything yet. Hopefully
Farberware
's customer service will respond quickly and I'll get this resolved soon. I'll let you know what happens.