BBQ Equipment: Char-Broil's Smart Thermometer
I mentioned in an earlier posting,
Char-broil
invited yours truly to their 2007 product roll out. Besides the flashy
TEC gas grills
and the
Double-Door Smoker, BBQ and Grill
(yeah, the name still sucks) a little gadget caught my eye, the Smart Thermometer. My head was turned so much by this little toy that I got caught trying to swipe one.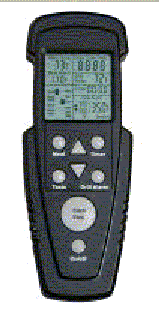 The Smart Thermometer monitors your meat temperature and your cooker's temperature simultaneously. You can also program the thermometer so that it alerts you when the meat is cooked to the temperature you set or whenever there is a fluctuation in your pit temperature.
So what you say? There's a lot of thermometers out there that do this already. Yes, my friend there are, but what makes this thermometer unique is that the Smart Thermometer also tells you how much time is left until your meat is finished. Pit temperature down 50 degrees? The thermometer adjusts it's time to completion estimates automatically. To me that's a great feature and well worth the investment in this shinny new tool.
Unfortunately, the models at the roll out were only for display only and not working models, so I can't comment on their performance, but if they do what they're supposed to do, the new Smart Thermometer will become an essential tool in any barbequers arsenal.
The Smart Thermometer should be available at Sears by now. It's not listed anywhere on
Char-broil's
website so don't try and buy it online. The suggested retail price is $39.99. Santa? Are you listening?