BBQ Equipment: Char-Broil Double Door Smoker, BBQ and Grill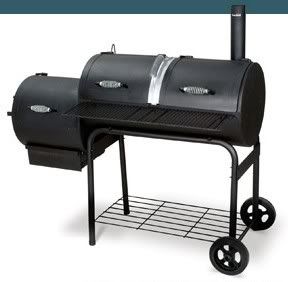 The folks over at
Char-broil
recently invited me and a bunch of other food bloggers to New York City's Bryant Park for a quick peek at their product line for 2007. They showcased their new
Tec series gas grill
, which is pretty sweet for a gasser. So sweet in fact that I'm actually interested in cooking on it.
They also demonstrated some accessories like the Smart Thermometer, a new brand of quick light charcoal, a grill cleaner designed for a woman's hand, fire starters and a new
Double-Door Smoker
. Can you guess which one caught my eye?
Some of the items like the thermometer haven't hit the market yet, But I can't wait to get my hands on it. It has some really interesting features and should be a real improvement on the remote thermometers available now. As soon as I get my hands on one, I'll be reviewing it here for you.
Now about the shinny new toy,
The Double-Door Smoker, BBQ and Grill
, not exactly a catchy name but here's the poop from Char-broil about it.
Double-Door Smoker, BBQ and Grill available at Lowe's
Double doors enable better access and reduce heat loss for perfectly prepared meals. Heat is evenly distributed by cast iron porcelain-coated cooking grate.
Top-mounted smoke stack tumbles smoke within the firebox for the ultimate smoked fare.
A bonus veggie rack and a water/marinade pan provide additional preparation options for all-in-one convenience.

Features 738 sq. in. total cooking surface area which includes the cooking chamber and the firebox.
Here's the kicker, the fine people over at
Char-broil
gave me the grill to try out. Yep folks, they gave me the grill! I have a new toy! Over the next couple of weeks, I'll be cooking, playing and poking the Double-Door smoker to an inch of it's life. I'll let you and the people over at
Char-broil
know what I find out. But like I told Char-broil, I'll be posting the good and the bad. It should be an interesting time.