Barbecue Rules!
I just got this in my e-mail. Barbeque continues to grow all over this land! I'm disappointed that people are still buying more gas grills as compared to charcoal, but the humble charcoal grill is making a big comeback. Enjoy.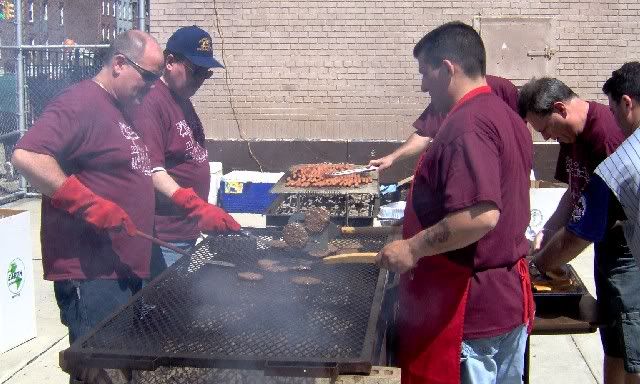 2006 Barbecue grill shipments post biggest gains in 20 years

-- Casual Living, 11/27/2006 6:43:00 AM
Gas grills continued to outsell charcoal grills
More barbecue grills were shipped in 2006 than in any previous year, according to figures just released by the
Hearth, Patio & Barbecue Association
, the trade association representing barbecue manufacturers. A record 17,272,500 grills were shipped, marking a 15.24% increase compared to 2005. It is the fastest year-to-year growth rate since HPBA began measuring grill shipments back in 1985.
The new figures also revealed that gas grills continued to outsell charcoal grills, capturing 58% of the market while charcoal grills captured 40%. Electric grills remained a distant third at 2% of the market. While both gas and charcoal grill shipments increased in 2006, charcoal grill shipments grew faster, at 19%, than gas grill shipments, which were up 13%.
In the charcoal category, covered stand-up grills continued to be the most popular, commanding nearly 50% of the category. Among gas grills, "LP stand-up" models (65.6%) outsold "LP table top" versions (24.7%) but table top versions increased their share in the category by six points while stand-ups fell five points. In the electric category, smokers (41.4%) outranked tabletop models (37.9%).
Built-in gas grill shipments increased 6% since 2005. Relatively new to the market and generally considered high-end, built-in gas grill models now average $600.
HPBA President Jack Goldman said the increased shipment numbers reflect the popularity of the new outdoor living trend. "Today, people love the convenience and informality of grilling," Goldman said. "Not only is it a heart-healthy cooking method, it's become part of the casual American lifestyle."
Increased sales may also be due to the diversity of products. According to HPBA Communications Director Leslie Wheeler, manufacturers have created convenient and innovative features that no one would have even imagined a decade ago. "I think that has really spurred people to buy," Wheeler said.