BBQ Games: Pass the Pigs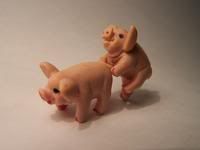 No, no, no, it's not what you think!

Pass the Pigs
is a great little game using pigs as dice. This very portable "beer & pretzels" game comes as a pocket travel case containing 2 pig dice, two pencils and a scoring booklet that also includes the scoring table. The pigs are actual pig miniatures, with a dot on their right flanks.
The object is to be the first to score 100 points using "pigs" as dice. On your turn, you throw the pigs and hope they end up in a scoring position such as a "snouter", "trotter" or "leaning jowler" (ranging in value from 1 to 60 points); if they do, you decide whether to "cash" the points (pass the pigs to the next player) or to roll again. If you roll a non-scorer ("pig out" --one pig on the right flank, the other on the left flank; a fairly frequent result), you lose any as-yet-uncashed points. If you throw an "oinker" (both pigs touch each other), you lose your entire accumulated score. If you throw a "piggyback" (one pig on top of the other), you're altogether eliminated!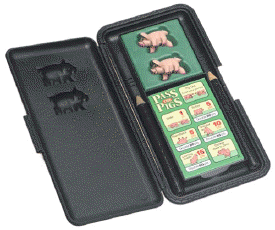 It's a great game that I found by accident when my son was little. I was waiting on line at
Toys R Us
one Christmas season and saw this game in the impulse buy section of the line. (The impulse buy section? You know - the stuff that the store puts near the cash register. The stuff you'd never come into the store to buy. But it's the stuff you'd buy on a whim.) I still needed some stocking stuffers and it fit the bill nicely.
We played this game for months. When the kids were asleep we played this game, albeit with altered rules more suited for an adult audience, but still we played this game. Alas, after awhile,
Pass the Pigs
lost it's allure and was regulated to the closet with the likes of
Risk
,
Monopoly
and
Uno
.
Last week, I realized that I hadn't been in Toy R US in about two years. I thought I'd check it out and see what's new in the world of toys. What did I find? Pass the Pigs -- it's back again. I missed my little piggies. We're hooked!