Rib Recipes
I'm taking it easy today and heading out to a block party out in Long Island. Since I don't have much to say, I've lifted a bunch of rib recipes from somewhere. Now I didn't have time to fully edit these recipes, but remember, we
NEVER
soak wood before using it and we
NEVER, EVER, NEVER
use a gas grill.
The first is a barbecue variation on the shiny, dark red, candy sweet, soy and salty spareribs you get at Chinese restaurants. The twist here is that the ribs are smoked.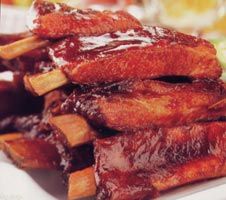 Chinatown ribs
Makes 4 servings
1 cup hoisin sauce
1/2 cup sugar
1/2 teaspoon Chinese five spice powder
1/2 cup soy sauce
1/3 cup Chinese rice wine, white wine or dry sherry
3 tablespoons Asian (dark) sesame oil
5 cloves garlic, peeled and crushed
5 slices ginger (each 1/4 inch thick), peeled and crushed
3 scallions, white parts bruised, green parts minced and reserved for optional garnish
2 racks of baby back ribs (4 to 5 pounds)
Oil for greasing grill grate
Whisk together hoisin sauce, sugar and five spice powder in a nonreactive mixing bowl. Add soy sauce, rice wine and sesame oil and whisk until sugar dissolves. Stir in garlic, ginger and bruised scallion.
Peel ribs and place in a nonreactive baking dish just large enough to hold them. Pour 2/3 of the marinade over ribs, turning to coat. Reserve remaining marinade for serving. Cover ribs and marinate in the refrigerator at least 4 hours, or as long as overnight. Ribs can also be marinated in large resealable plastic bags.
Meanwhile, cover 1  1/2 cups wood chips or chunks (preferably cherry) with water. Let soak 1 hour. Set up grill for indirect grilling and preheat to medium. Brush and oil grill grate. Drain wood chips.
Drain ribs well and arrange on grate, bone side down, over drip pan away from heat. Toss half the wood chips on each mound of coals. Cover grill and cook ribs until dark brown and very crisp on the outside, yet tender enough to pull apart with your fingers, 1  1/4 to 1  1/2 hours. Replenish coals as needed. Transfer reserved marinade to a saucepan and gently simmer 3 minutes over medium heat. Let cool to room temperature, then strain it into a serving bowl. Transfer ribs to a large platter or cutting board and cut the racks in half widthwise, or into individual ribs. Brush or drizzle ribs with some of the reserved marinade/sauce and sprinkle with reserved scallion greens.
Per serving: 781 calories (53 percent from fat), 46 grams total fat (14 grams saturated), 116 milligrams cholesterol, 60 grams carbohydrates, 29 grams protein, 2,982 milligrams sodium, 2 grams dietary fiber.
Kansas City is well represented in a new book called
Killer Ribs: Mouthwatering Recipes From North America's Best Rib Joints
(Chronicle Books, $16.95) by Nancy Davidson. The book features recipes from 50 barbecue restaurants nationwide, four of them in the Kansas City area: Oklahoma Joe's, Arthur Bryant's, Gates and Buffalo Bob's Smokehouse in Lawrence. Some of the recipes from the book follow.
Oklahoma Joe's tasty ribs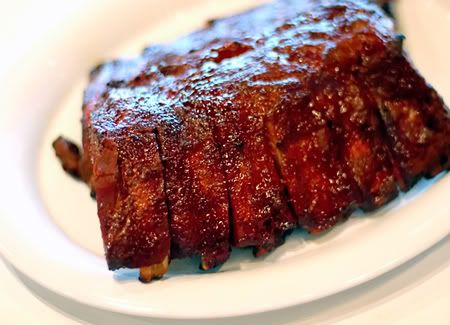 Makes 6 servings
For the dry rub:
4 tablespoons salt
4 tablespoons granulated sugar
2 tablespoons brown sugar
1 tablespoon chili powder
1 tablespoon paprika
1 tablespoon cumin
1 tablespoon MSG
1 tablespoon garlic powder
2 tablespoons onion powder
2 tablespoons black pepper
2 tablespoons white pepper
For the ribs:
4 tablespoons brown sugar
3 slabs loin back or spare pork ribs
8 ounces apple juice
Your favorite barbecue sauce
Preheat grill or smoker to 250 degrees. Combine all the dry rub ingredients. Place 1 tablespoon dry rub in a separate bowl and mix with the 4 additional tablespoons of brown sugar; set aside.
Remove the membrane from the ribs and season both sides of ribs with dry rub. Place ribs on grill or smoker, away from direct heat. Add wood chunks to the fire and maintain a 250- to 275-degree fire. After 1  1/2 hours, spray ribs with apple juice. Spray again after 3 hours and remove ribs from the heat.
Add the rub and brown sugar mixture to the meat side of the ribs and wrap them in aluminum foil. Return ribs to grill or smoker and cook an additional 1  1/2 hours at 275 degrees. Remove ribs from the foil, brush them with barbecue sauce and put them back on the grill no more than 5 minutes. Let ribs sit 15 minutes before cutting.
Per serving: 477 calories (52 percent from fat), 28 grams total fat (11 grams saturated), 83 milligrams cholesterol, 29 grams carbohydrates, 29 grams protein, 2,684 milligrams sodium, 2 grams dietary fiber.


Gates' Rib Seasoning
Makes about 1 1/2 cups
1 cup sugar
1/2 cup salt
2 tablespoons paprika
2 tablespoons red pepper
Combine all the ingredients and store in a tightly sealed jar. This seasoning will flavor several servings of ribs. When it's time to cook, sprinkle pork spareribs with the rib seasoning, making sure both sides are covered evenly, but don't rub it into meat. Shake off any excess and let the ribs stand in the seasoning until it starts to liquefy, about 15 minutes.
Per (1-tablespoon) serving: 34 calories (2 percent from fat), trace total fat (no saturated fat), no cholesterol, 9 grams carbohydrates, trace protein, 2,132 milligrams sodium, trace fiber.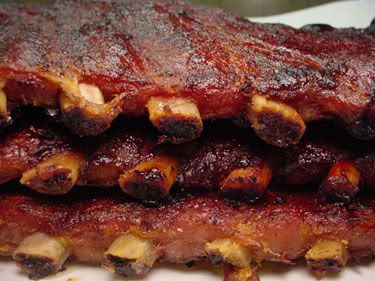 Arthur Bryant's Rib Rub
Makes about 3 cups
1 cup salt
2/3 cup paprika
2/3 cup sugar
2/3 cup packed brown sugar
1 tablespoon ground mustard
2 teaspoons white or black pepper
3/4 teaspoon ground celery seed
2 teaspoons powdered onion
2 teaspoons powdered garlic
Mix all the ingredients. Generously sprinkle both sides of the ribs with the rub and massage it in. Let ribs sit at least 12 hours, refrigerated, before cooking. This recipe flavors 12 slabs of ribs.
Per (1-tablespoon) serving: 24 calories (8 percent from fat), trace total fat (no saturated fat), no cholesterol, 6 grams carbohydrates, trace protein, 2,133 milligrams sodium, trace dietary fiber.