Ol' New York
I owe you a report on the Grill King's event, Jack's Firehouse and my TV experiences; I'll get to that later in the week.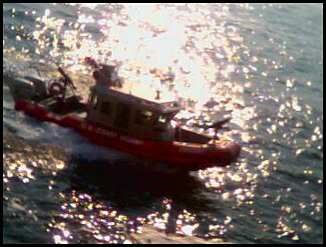 But tonight, let's just say that sometimes it's good to take some time and play tourist in your own home. I got to spend all afternoon in the Department of Motor Vehicles, so afterwards I rewarded myself with New York's best bargain, a trip on the Staten Island Ferry. It's absolutely free and provides an incredible view of the New York skyline, the harbor and the Statue of Liberty.
The boat ride was a great way to cool off on an incredibly hot day. Even the Coast Guard thinks so. They traveled right along with us the whole way. I'm sorry that the picture is so crappy, I took it with my cell phone, but you can just make out the machine guns on both ends of the boat. Lord, I miss the old days.