Guitarbeque 2006
Guitarbeque 2006
has come and gone and it was another hugely successful event.
Arlie Bragg
seems to have a magic touch with every event he puts together. I don't know the name of the woman in charge of the bands and the rest of the fair, but this event just seems to get better and better with every passing year. She and her team deserve a great deal of praise.
Asbury Park was actually showing signs of renovation this year. The large skeleton of a building that was there last year and 15 years ago at my first visit had finally been torn down. There are new townhouses and condos popping up all over the place. It looks like Asbury may actually rise from the ashes after all!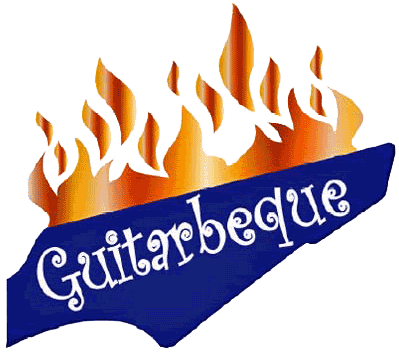 The judging was interesting this year.
KCBS
has tightened up the rules and changed the CD that is played before every judging class. The CD gives the judges a quick refresher course on the rules before the contest begins. Photography is not allowed and they have expanded methods for judging the meat. They've also clarified a few points about judging brisket and the "accordion test" is now the standard and codified method for judging brisket.
In the chicken category, there were 5 samples of chicken thighs and one of chicken legs. The chicken legs looked awful when they were presented for appearance. They were light yellow and looked like they were cooked without seasonings in an oven. But they made up for it in taste and tenderness. I've never bitten into a piece of chicken so flavorful and moist. Whomever cooked it had it going on. Remember, the judging at these contests is blind.
There was nothing exceptional in any of the other categories with the exception of one of the brisket entries that was almost perfect. My buddy
Phil
gave it perfect scores across the board, but I gave it a "8" (9 is the top score) on taste. It was damn good, but IMNTBHO, it just missed the perfect mark. A contest organizer was overheard telling another judge that this contest had the lowest scoring pork entries he/she's seen in all the years he/she's been competing.
I've learned that I'm a tough judge. I was taught that 6 is average and that you score up or down from there. My scores ran from 4 to 9 which reflected my opinion on each piece of meat. Very few of my fellow judges are comfortable giving anyone a lower score than 5. I think long and hard before I give a low or a high score, but I try my damnedest to always give fair scores.
I finally saw some of the classic cooler toting judges. Two judges at the end of our table were packing up meat after every category. They'd even take samples off other judge's plates! Each sample was placed into a separate zip lock bag and coolered for the trip home. When they were presented with the pulled pork for sampling, they each took about 1/2 lb each! I'm beginning to understand the resentment of many of my fellow cooks to these judges. Rumor has it that by next year there will be a policy in place forbidding judges from taking food home after an event.
It was great to see some, what are now becoming, old friends. Renee, my fellow judge from Sheepshead Bay. Rich Decker the babe magnet of Lost Nation who shocked me when he said he was 50! And, the ever charming Nellie and Bruce Kain from the Front Street Smokehouse. It was also great to make some new and newer friends, the boys at Dizzy Pig, The Anchormen, The BBQ Guru, Ribs Within and the New York City Firemen from Vinegar Hill.
Overall a splendid time was had by all.