BBQ Events: Harpoon 2006
Every July, the premier event
barbeque event
of the North East is held at the
Harpoon Brewery
in Windsor, Vermont. I was planning on competing at this event, but we were shut out as the event fills up just about as soon as it's announced.
So here's an article from the
Valley News
about this great event.
When Smoke Gets in Your Food
By Carolyn Lori
Valley News Staff Writer
Windsor -- Using kale as a garnish, pre-seasoned meat and deep-fried anything were not allowed. The same went for branding a pork chop with an identifying mark, using a gas or electrical grill and serving any kind of sauce considered ""chunky.""
These were among the rules at the Sixth Annual Harpoon Championships of New England Barbecue held at the Harpoon Brewery on Saturday, where 41 teams barbecued four categories of meat -- pork chops, chicken, pork ribs and beef brisket -- and vied for the title of Grand Champion and Vermont State Champion of Barbecue. There was also a less-formal cook-off yesterday that had the added requirement of using Harpoon beer-based sauce.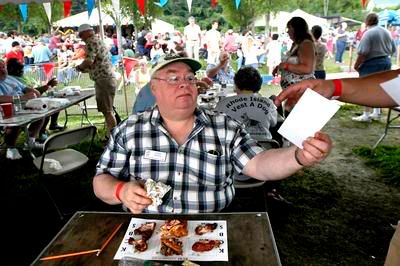 Despite Saturday's rain, Fitz Granger, vice president of marketing from Harpoon Brewery, estimated that about 4,500 people attended the event, which went from noon to 8 p.m. on Saturday and noon to 5 p.m. yesterday.
"We didn't let the rain spoil anything for us,"" Granger said yesterday afternoon.
The more than 30 judges came from all over New England, each of them certified by the
Kansas City Barbecue Society
, which is the ruling body of many such competitions around the country, explained Ken Dakai, a representative of the society from Clinton, Mass.
The team, I Smell Smoke!!, with members from Fitzwilliam, N.H., Salem, Mass., and Malden, Mass., took top prize on Saturday, earning them an invitation to the premier barbecue competition, the American Royal in Kansas City, later this year and putting them in the running for a chance to compete at the Jack Daniels Barbeque in Tennessee this fall.
The team got its name, according to one of its members, "Charcoal"" Charlie Pini, because whenever he started up the back-yard barbecue someone in the neighborhood would call the fire department and complain, ""I smell smoke."
"It got to the point where every time we'd start the barbecue, we'd hear the sirens,"" said Pini. ""We started chanting, ""I smell smoke!" When he, his brother, Doug Pini, and friend, Steve Farrin, decided to enter their first barbecue competition in 1994, the organizers wouldn't allow them to join without a team name, so Charlie Pini suggested I Smell Smoke!! and that's how the three have been known ever since.
While Doug Pini cooks professionally at a hotel in Cambridge, Mass., Charlie Pini and Farrin are engineers. ""I like to do it for the fun,"" said Charlie Pini. ""If I had to do it for a living, it wouldn't be fun anymore."
Though he doesn't plan to quit his day job, Pini enters a lot of barbecue competitions -- he even got married at one -- and while it may be a hobby for him, for others winning the grand prize can be a windfall. Caterers who win have seen their business triple, said certified judge Jim Thatcher from Bedford, N.H.
""People take it really seriously,"" he said, as he served pork to other judges during yesterday's contest.
In addition to the grand prize, the top 10 teams were named in each category on Saturday, with Bare Bones of Fairlee taking second in the chicken category. The team was headed by Crystal Johnson, owner of the Whippy-Dip Restaurant in Fairlee, and "pit master,"Mark Fifield.
At yesterday's less formal competition, there were contests for best sausages, pork chops and chicken wings, among others categories. Each entry was tried by six judges, who looked for the right taste, texture and tenderness. The few small bites of each sample were washed down with water and saltines.
"By the end of the day, you usually eat about two pounds of meat,"" said Philip Tacy, a judge from Plainfield.
While the cooking might have been taken seriously, the naming of teams clearly was not. In addition to I Smell Smoke!!, there was Dr. Frank-n-Swine from Orleans, Cape Cod, Porkaholics BBQ from Haddam, Conn., the Bastey Boys of Templeton, Mass., and Seabriskets from Seabrook, N.H.
In addition to Bare Bones, local team Howling Hog from East Randolph was in the fray, walking away with 10th place in yesterday's chicken wings competition. Team member Chris Sargent said he was pleased that on Saturday the team ranked 13th in the brisket category, a big improvement over last year's last place.
But in the end,
I Smell Smoke!!
was the big winner of both days. As members picked up the
New England Team
of the Year trophy yesterday, several fellow barbecue aficionados bowed on the grass beneath the awards tent, chanting, "We are not worthy."