BBQ Drink: Rolling Rock
With apologizes to my friend
Lenn
, Beer is really the best thing to drink with barbeque. I know that there are wines that work well with the flavors of the pit, but beer and barbecue are the quintessential pairing.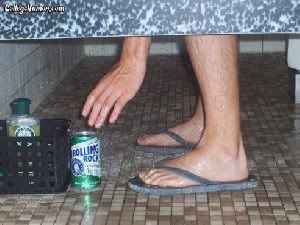 So it's with tear in the eye and sadness in my soul, today I bid goodbye to a dear old friend, Rolling Rock. The LaTrobe Brewing Company which produced Rolling Rock since 1939 had been sold to Anheuser-Busch back in May. As you may know Anheuser-Busch is the parent company of Budweiser and on Friday shut down the legendary Latrobe Brewing plant. Rolling Rock will now be brewed in the Anheuser-Busch plant in Newark, New Jersey. Ugh.
It's a sad day.
If you want to read more about it, check out
Yahoo News
. Or
Real Beer
. Or
Off the Broiler
. Or
The Pittsburgh Tribune-Review
. It's a sad day.