Barbecue bravado!
Here ya go - from today's
New York Daily News
. Two New York City "budding barbequers" make history.
Barbecue bravado!
Local competition heats up over smoking meats Southern-style
BY RACHEL WHARTON
One Saturday morning this spring,
Matt Fisher
and Robert Fernandez made barbecue history in a Sheepshead Bay parking lot.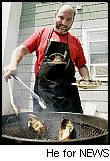 Despite overcast skies, the two - Fisher, a Queens resident who works in pharmaceutical communications; Fernandez, a Brooklyn computer consultant - helped teams like Flushing's Beer Belly Porkers fire up their grills in the city's first official barbecue competition.
And if the one-day affair fell shy of better known matches - typically two-day jaunts spent slow-smoking meats - it set the stage for next weekend's smoky showdown.
On July 15-16, the
Grill Kings Long Island BBQ Cook-Off
will meet for the first time within easy reach of the city - right over the Queens border at Belmont Park, in Elmont, L.I.
For urbanites not yet familiar with competition barbecue, national events like
Grill Kings
and the music and meat fest called
Guitarbeque
in Asbury Park, N.J. (which starts tomorrow) aren't merely burger battles.
"Barbecue is cooked low and slow," reminds Don McCollough, president of the
National Barbecue Association
, "and not over a direct flame."
At the fourth annual
Grill Kings
, sanctioned by the
Kansas City Barbecue Society
and sponsored by biggies like Anheuser-Busch, you can expect to find more than 100 teams from around the country cooking low (over indirect heat) and slow (overnight) on everything from kettle grills to 10-foot smokers.
There'll be plenty of revelry, too.
Beyond the good feeling that comes from acres of slowly smoking meats and camping cooks, says McCollough, cold beer and "secret sauce" hype always adds to the fun.
"A lot of this is about the connection and swapping lies with the other team," says
Purple Turtle
team member Greg Hunter, who came all the way from Norwalk, Conn., to win in Brooklyn.
Still, competition contestants are dedicated sportsmen (and a few women) paying $300 entry fees and hundreds more on meat that must be cooked to contest rules.
Even at a small contest like Sheepshead Bay, says Fernandez, the
New England Barbecue Society (NEBS)
made sure the meat was inspected, prepared inexacting proportions with proper amounts of sauce, turned in at specific intervals and ranked by a sequestered team of judges.
For hard-core New York competitors like Phil Rizzardi, a Nesconset, L.I., resident who heads a "brotherhood" of national teams under the banner of the
Barbecue Brethren
, that's good news.
"I'm so sick of hearing that the [Northeast competitions are] the South's chance to come and spank the North," says Rizzardi, who judged the Sheepshead Bay event and runs the barbecue site
bbq-brethren.com
.
In New York, "barbecue used to be hamburgers and hot dogs," he says, but "now people are starting to understand that barbecue means a little more."
One local enthusiast, Rob Richter, helps run a part-time catering outfit and award-winning competition team in Rego Park called Big Island Barbecue.
Richter encourages budding barbecuers like Fisher and Fernandez to get in on competitions and throws smoking competitions on his Queens street. In fact, that history-making Sheepshead Bay event - known as Grillin' by the Bay - was Richter's idea.
Not that Fisher and Fernandez took much convincing: Both are city smoke-hounds with their own barbecue blogs: Fisher's is
backyardchef.blogspot.com
; Fernandez's is
whitetrashbbq.blogspot.com
.
Now that the two have running a minicontest under their belts, they're ready to compete.
(WTBBQ Edit - I've been ready to compete for years! I've been doing it for the past 3 years!)
With any luck, they'll soon join die-hards like Rizzardi, who recently hosted more than 20 Brethren members to his house for a weekend of wood-fired meats.
"Barbecue has ruined me for other food, says Rizzardi. "I need some form of smoke in my system."
* * *
Baby Back Ribs
Serves 6-8
Adapted from Robert Fernandez
If you don't have the time or the backyard to slow-cook ribs, says Fernandez, this recipe provides smoky flavor fast.
2 tablespoons each Kosher salt, turbinado sugar, ground cumin, chili powder
1 tablespoon each freshly ground black pepper, cayenne pepper, garlic powder, onion powder
1/2 tablespoon each white pepper, dried oregano
1/2 cup paprika
3 full racks of baby back ribs
1 bottle yellow mustard
1 bottle of your favorite barbecue sauce
Combine all dry spices in a small bowl.
Using a dull knife, remove the tough membrane covering the underside of the rib bones. (After you have it halfway off, recommends Fernandez,
(WTBBQ Edit: you only need to pull off about 1/2 to 1" then)
grip it with a paper towel and pull it off in one piece.) Cover the ribs in a thin layer of mustard. Shake or sprinkle on rub thickly to cover the meat. Let the ribs come to room temperature; the meat will release moisture into the spices.
Build a medium-hot fire on one side of your grill. Cook ribs over the fire for about 20 minutes, flipping frequently to prevent burning.
Move ribs to the cool side of the grill; stack them up if necessary. Cover the grill and let the ribs cook for about one hour.
After an hour, check the fire and add more charcoal if necessary. Check the ribs by picking them up by one end. They should bend and flex easily, almost breaking in half (if they do, don't worry).
Apply a thin layer of sauce to each rack. Keep them on the cool side of the grill, cover and let cook for 15 minutes to allow the sauce to set. Then cover the ribs in a thicker layer of sauce and move them directly over the fire. Cook for an additional 5 minutes to char the sauce, flip often to prevent real burning. Let the ribs rest for 5 minutes before cutting and serving.
All-Purpose Barbecue Brine
Makes about a gallon
Adapted from Matt Fisher
This brine works for all kinds of barbecued or grilled meats, says Fisher, and "provides some wiggle room to prevent well-done foods from being dry."
1/2 gallon water
1/2 gallon apple juice
1/2 cup table salt or 1 cup Kosher salt
1/8 cup brown sugar
2 tablespoons five-spice powder (or use another seasoning of your choice, like lemon pepper)
Mix brine ingredients. In the refrigerator, soak pork chops or other meats in brine for 1-3 hours before cooking.
* * *
Attn: grill seekers
Summer BBQ competitions near the city:
Guitarbeque - Tomorrow and Sunday, 11 a.m.-8 p.m., in Bradley Park, Asbury Park, N.J. Free; visit
www.guitarbeque05.com
for info.
Grill Kings - Belmont Park, July 15, 11 a.m.-8 p.m.; July 16, noon-8 p.m. $5 for adults, $2 for kids. Visit
www.grillkings.com
.
For more on the Hudson Valley RibFest, Aug. 18-20, in New Paltz, N.Y., visit
www.hudsonvalleyribfest.org
. You can also find a local judging class or other competitions through the Kansas City Barbecue Association at
www.kcbs.us
.
(WTBBQ Edit - also check out the
New England BBQ Society's
website for more contests in the North East.)
Originally published on July 7, 2006