The Smoking Car #3 - The Hampton Smoker
Welcome back to the Smoking Car. This is our third trip in the Smoking Car and who do we meet today? Well, looky here, it's
Matt
from
The Hampton Smoker
. Good to see you
Matt
. So what's up with you?
"Well Robert, I just bought myself a new pit, a custom built
Klose Backyard Chef
. Damn she's nice, but I still miss my old ECB.
Whether you call it a grill, a pit, a smoker, or by a proper name (my
Klose
is called Wubby), each cooker that you choose becomes a part of your family. People will think I'm crazy, but like a pet, my smokers have each had a personality, and have aged (rusted, warped) right alongside me.
You can be sure that, although secret rub and sauce ingredients may be closely guarded secrets, most pitmasters will showcase their pit like a proud parent attending a child's recital. By the same token, lay a hand on someone's pit without their permission, and you're in deep trouble. The pride runs deep.
When I first purchased my ECB (
El Cheapo Brinkmann
--
Brinkmann
is a manufacturer) for $30 bucks at
Kmart
, I thought I had really scored. Well, yes and no. It was a poorly designed, R2D2 looking thing that had little to offer in terms of function. But, I made do and ate some fine bbq.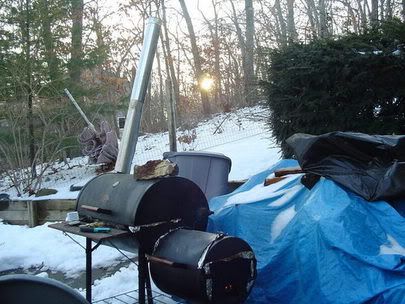 Soon after, I was pulling cobwebs out of the ECB and cooking on the Char-Griller Smokin' Pro, another cheap-o cooker, but at least one looking like a smoker-- with a box on the end for burning wood.
She was my pride for many years. At first she was shiny and tight fighting, but soon she was a gritty, rusted, warped warrior, turning out 'que that defied the odds. She's sitting there, a wobbly, cardboard propped up, blocking the wind to fight off massive temperature fluctuations, shell of herself. She sits back now, and watches me cook on my new
Klose
, my Wubby, which is a more substantial smoker. She's retired for the foreseeable future, but I know she's still got it."
Well, we've reached another stop and
Matt's
heading home. Thanks for the story
Matt
. Talk to you soon. You'll be hearing a lot from
Matt
over the next few weeks. He's my co-conspirator in putting together
NYC's First BBQ Contest - Grillin On The Bay!