Barbeque Rubs
Last year I stated that I was working on my own "top secret prize winning competition busting highly marketable tasty barbeque rub." I haven't finished yet. I never really got back to it on the blog, but I am still working on it. Oh, I've offered little teases, like posting about Paprika, but I never picked up the thread in a coherent fashion again. But - never say never again. Let's talk about rubs.
What exactly is a rub? Well according to the American Heritage Dictionary a rub is defined as: To apply pressure and friction to (a surface); To exert pressure or friction on something; The act of rubbing. In the barbecue world a Rub is a dry mixture of salt, spices and herbs applied to meat prior to cooking. Outside of Texas, I would put sugar in that definition as well. See I told you that barbeque has it's own lingo!
In Paul Kirk's book "Paul Kirk's Championship Barbecue Sauces" he states that the first step to creating your own rub is to examine what the commercial producers put into their rubs and work from there.
So here, pulled at random from my shelf, are three different rubs. All three of these rubs were purchased in local supermarkets, so none are especially esoteric. If you live in the tri-state NYC area you should be able to purchase them as well. The three choices are K
ansas City's Cow Town Sweet Spot Barbeque Rub
,
Bad Byron's Butt Rub Barbeque Seasoning
and
Emeril's Rib Rub.
Kansas City Cow Town is an award wining Barbeque team whose rubs have helped them win two American Royal Grand Championships in 1993 and 1995. Bad Byron's Butt Rub comes from the legendary Butt Rub competition team who has won 15 grand championships and 14 reserve championships. And of course the last rub comes from the commercial kitchens Emeril Lagasse. Emeril's not a BBQ legend, but he is a famous cook and television personality. If you don't know who he is, you've been living under a rock for the past ten years!
So here's the breakdown of the rubs:
Kansas City's Cow Town Sweet Spot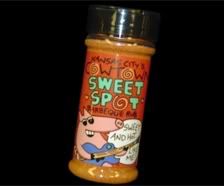 Sugar
Paprika
Salt
Worcestershire Sauce Powder
Monosodium Glutamate
Dehydrated Garlic
Caramel Color
Malic Acid
Silicon Dioxide
Bad Byron's Butt Rub
(Sorry I couldn't get a good picture of this rub.)
Salt
Black Pepper
Granulated Onion
Granulated Garlic

Paprika
Chipotle Powder
Microcrystalline Cellulose
Emeril's Rib Rub

Salt
Sugar
Paprika
Crushed Red Pepper
Ground Mustard
Onion Powder
Garlic Powder
Other Spices
So looking at this list, the only ingredients that make it into each rub are: Salt, Paprika, and Garlic. That sounds like the base for most rubs that I've seen in the barbeque world. Most do add some form of sugar as well, usually in a one to one ratio with the amount of salt. Sugar in a rub is usually found in three forms white cane sugar, brown sugar, or turbinado sugar. You can also add sugars in liquid form such as honey or molasses, but since they're liquid they're not part of the rub!
In two of the three, you'll find Sugar, peppers in the form of Black Pepper, Crushed Red Pepper or Chipotle Powder, and Onion. Now you're talking a more complex rub. This combination, along with the first group is closest to the rubs that I use when I compete or cook in my own backyard.
The remaining ingredients are what make each rub unique. These are the secret flavors that make one rub stand out over the others. These are the magic keys. This is where you experiment to create your own flavor stamp. We'll talk about that in another post.