There ought to be a law
In my real job of an IT consultant, I have a client located in the Bronx. To get there I hop in my trusty car and drive out on the Belt, up the Van Wyck to the Whitestone Expressway over the bridge and into the Bronx. Every time I make this drive, there it is taunting me, a huge sign for KC's BBQ & Grill. Most days, I'm running late and note that I need to check it out. Well today I finally pulled off the expressway and ventured in and I can't say that I was glad I did.
KC's BBQ and Grill (no website that I can find)
31-22 Farrington Street
Flushing, NY 11354
(Located at the Pathmark Shopping Center)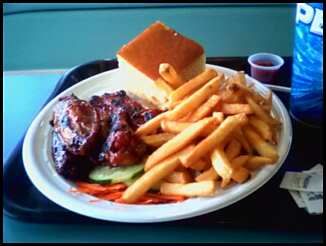 Let's get right to the heart of the matter, KC's is
NOT
a barbecue restaurant. It's a fast food place that uses barbeque sauce on boiled meat that is grilled for appearance sake only. It also offers a fair amount of "Mexican" dishes. If you're looking for barbecue, don't waste your time. Here's a picture from my cell phone of their "BBQ" Chicken Wing platter.