Book Review: John Willingham's World Champion Bar-B-Q
John Willingham's World Champion Bar-B-Q
John Willingham
William Morrow and Company, Inc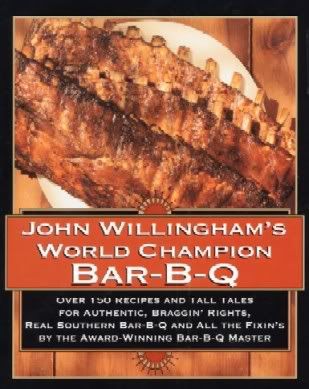 I've been looking over some of my old cookbooks and just reread a classic. John Willingham's World Champion Bar-B-Q was published back in 1996 and I have a first edition of the book. This book is filled with authentic barbeque recipes and techniques. John Willingham was/is the holder of the most barbecue cooking awards and according to the William Morrow website: "John Willingham is the most acclaimed Bar-B-Q chef in the world. A Memphis native, he has created his own line of sauces, rubs, and marinades and invented the famous W'ham Turbo Cooker."
I highly recommend this book for anyone getting started in the world of barbeque. Some of his recipes and techniques will seem odd to a new chef, but trust me, he's on the money. He covers all the categories for a
KCBS
contest and provides easy and tasty recipes for appetizers to desserts.
If you would like to read his recipe for Jailbird Ribs, click
here
. In my next blog entry I'll talk about his recipe for championship brisket and my attempt to cook it.