Adam Perry Lang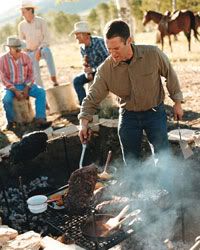 I mentioned earlier that one of the highlights of the Hudson
Valley Ribs Festival
was that I got to spend more time with
Adam Perry Lang
of
Daisy May's BBQ
. I promised to write a little more about my experience with him.
A little background.....
I've been thinking and toying with opening a BBQ restaurant for about 5 years. Friends and family have all said that I am nuts. I've never worked in the restaurant business. I've never cooked for large crowds. Yeah, I can make some kick ass Q, but that's a long way from running a successful BBQ business. And where would I get the money to do it?
Another argument I head over and over again was that New York doesn't have any BBQ restaurants. They wouldn't do well here. Well, there was
Tennessee Mountain
,
Pearson's
,
Virgil's
and
Brother Jimmy's
. All of them successful but none really great. None of them were exactly what I wanted to do.
Then, there was
Blue Smoke
. Finally New York had a New York style Barbeque restaurant. I looked around. I was intimidated. I couldn't run a place like that. I'd want to do a BBQ joint like they had in Texas. A place where you got your meat at the counter and found an open table to eat at. More scoffing from the friends and family. That would never fly in NYC.
Then
Daisy May's
opened up. This was almost exactly what I wanted to build. A small take out restaurant with a limited menu that featured great BBQ with some upscale sides. As readers of this blog know, I've reviewed Daisy May's many times over the years, and not always favorably, but Adam was doing exactly what I wanted to do. He was/is living my dream.
Adam Perry Lang was a CIA trained chef who is creating his own road by taking on the lowly art of barbecue and brought it to New York City with some style and flair. He worked in the kitchens of
Le Cirque
,
Daniel
and
Chanterelle
. The boy can cook.
I fist met Adam in Daisy May's one late evening. (Well late for Daisy May's - it closes at 8:00pm) He didn't strike me as particularly friendly or nice. I got the distinct feeling that he was pissed off at something. I just assumed that he was another celebrity with a celebrity attitude. Boy was I wrong.
In my next post, I talk about what it was like spending time with Adam at the
Grill Kings
and at the Hudson Valley Rib Fest. This post has gotten much too long!