The Quest for the Gold Chicken.
Since my last post, I've gotten a lot of e-mails asking about the
gold chicken
quest. Here's the story. Why
gold
? Why
chicken
?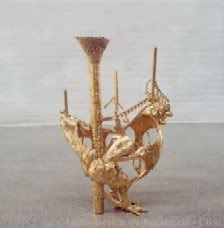 I was watching
Willie Wonka and the Chocolate Factory
with my daughter the other day. They came into a room with the
goose, or actually geese, that laid the golden egg
and it got me thinking.
When I was judging the
KCBS
Connecticut State Championship
, there was one entry of ribs that was absolutely beautiful. It was
red
, a bright
ruby
red
, with a sheen like a
candy apple
. It was the only entry that I gave a perfect score on appearance. It was one of the two presentations that I still remember. Now the red would work for
ribs
, but I don't think that it would be appropriate for
chicken
. To me,
chicken
should have a golden color when cooked.
The other night, I roasted a
Perdue
oven stuffer
. It had absolutely nothing on it. No oil, no seasoning, nothing. It cooked at 425 degrees for the first half hour breast side down, and 375 degrees, breast side up for the rest of the cooking time. It came out a nice gold color. Not what I'm seeking, but certainly a
step in the right direction
. Of course when I'm doing this for competetion, I'll be cooking chicken parts.
In the supermarket, I checked out some ingredients that would create the elusive gold color. I looked at oils, spices, soups, sodas, jellies etc. Then I looked at the chicken themselves. I wonder; which brand would give me the color I'm seeking? Do the brands matter? So far, Perdue has given good results. I usually like to cook with
Bell & Evans
chickens, they taste better and are more tender than Perdue,
Tyson
and the other store brands. Next cooking experiment will be with a Bell & Evans. (Why didn't I use a B&E for this cook? - that's another story.) Should I be buying chickens at the
live poultry market
? So many questions.
I'm going to work on color first, and flavor second. Ultimately, I may have to sacrifice some color for taste, because taste and tenderness scores are more heavily weighted in competition than appearance. But that decision is down the road.
So, now I begin the quest for the Gold Chicken